The Financial Times has ranked The Ivey Academy as the best overall school-based executive education provider in Canada for the second consecutive year.
The Ivey Academy maintained its number one position in Canada for customized programming and placed 20th in the world for open-enrolment programs. This year, a total of 107 schools took part in either or both rankings.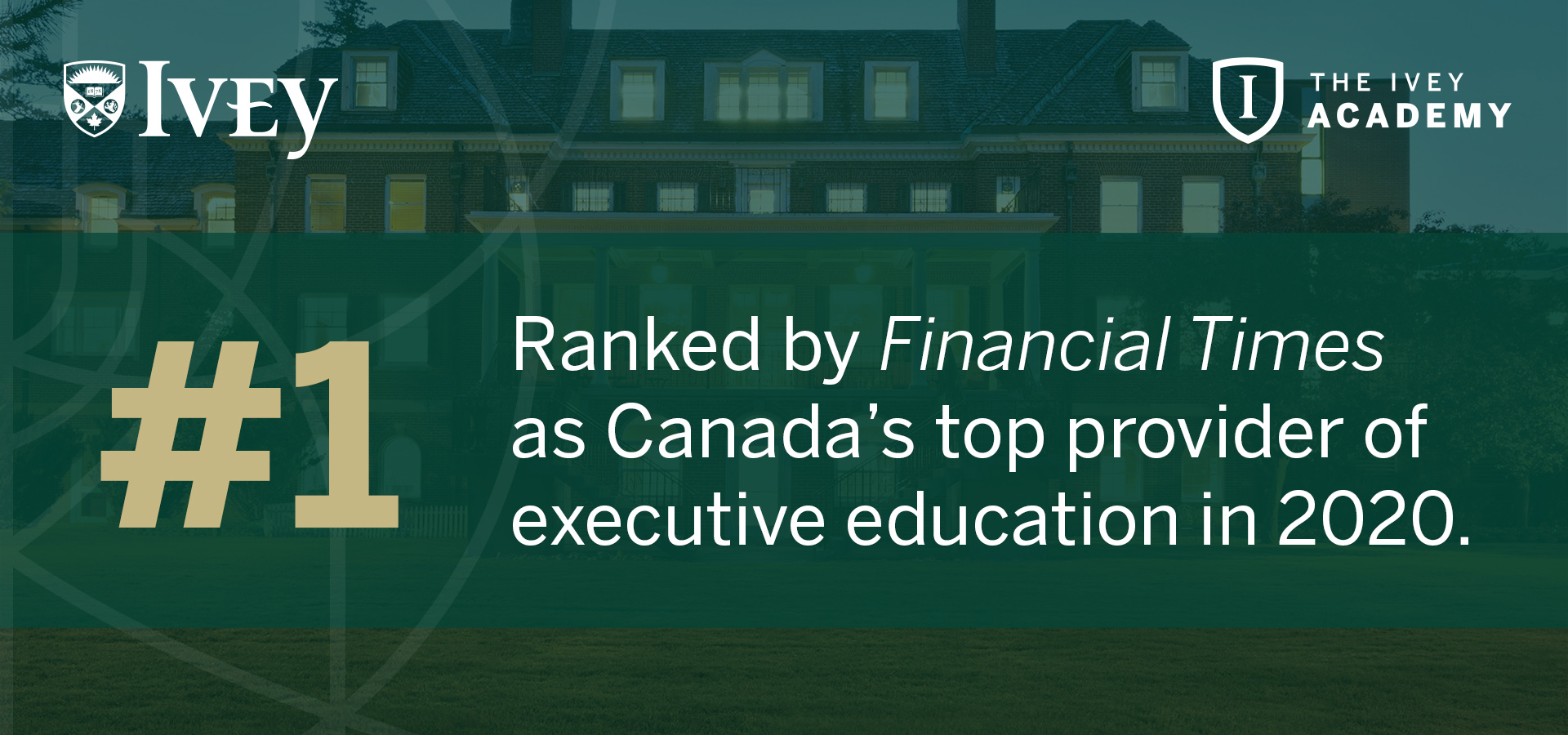 Executive Education ranking category highlights
For customized programs, The Ivey Academy ranked number one in Canada for preparation, program design, faculty, new skills & learning, aims achieved, facilities, future use, and growth. Custom executive education rankings are based on the quality of programs tailored to the training needs of the organizations that commission them.
Open-enrolment programming received top marks nationally for course design, faculty, follow-up, aims achieved, and international location.
For 21 years, Financial Times has ranked the world's leading providers of customized and open-enrolment executive education programs. For 19 of the past 21 years, The Ivey Academy has ranked #1 overall in Canada and #1 in custom. For 16 of the past 21 years, The Ivey Academy has been ranked among the top 25 providers in the world.
About The Ivey Academy at Ivey Business School
The Ivey Academy at Ivey Business School is the home for executive Learning and Development (L&D) in Canada. It is Canada's only full-service L&D house, blending Financial Times top-ranked university-based executive education with talent assessment, instructional design and strategy, and behaviour change sustainment. 
Rooted in Ivey Business School's real-world leadership approach, The Ivey Academy is a place where professionals come to get better, to break old habits and establish new ones, to practice, to change, to obtain coaching and support, and to join a powerful peer network. Follow The Ivey Academy on LinkedIn, Twitter, Facebook, and Instagram.