Artwork by Emma Richard (IG: @itsemmarichard)
In this episode:
The transition to a "net-zero" climate emissions economy will have profound implications for all organizations, not just those in heavy-emitting sectors. Many leaders are making long-term commitments to climate action and the forces driving this transition are already building compelling momentum: investors are changing perspectives on future value; technologies are maturing; policies are shifting; and consumer pressure is on the rise. Consequently, marginal efforts by organizations and delayed leadership action are becoming increasingly risky strategies.
But just as important, transformative opportunities could shift or fundamentally restructure key aspects of a firm's business model, value chain, and competitive positioning. In the first episode of the Ivey Net-Zero series, our panelists explore key topics, including:

What are the strategic implications of the net-zero agenda for business?
How are the growing expectations of key stakeholders impacting or disrupting existing business models?
How can firms develop and navigate a successful path forward, effectively balancing transformative long-term climate targets against short-term imperatives for action and investment?
For this episode hosted by Ivey Professor Mazi Raz, we were joined by two of corporate Canada's leading voices on strategic climate action – Sarah Chapman, Global Chief Sustainability Officer, Manulife and Laura Zizzo, Founder & CEO, Manifest Climate – along with Robert Klassen, Director, Centre for Building Sustainable Value, Ivey Business School. This episode was originally recorded as a livestream, and you can read an Ivey News Recap of the event here: Net-zero future for business may be closer than you think.

Other ways to listen:
View a full transcript of the episode (coming soon)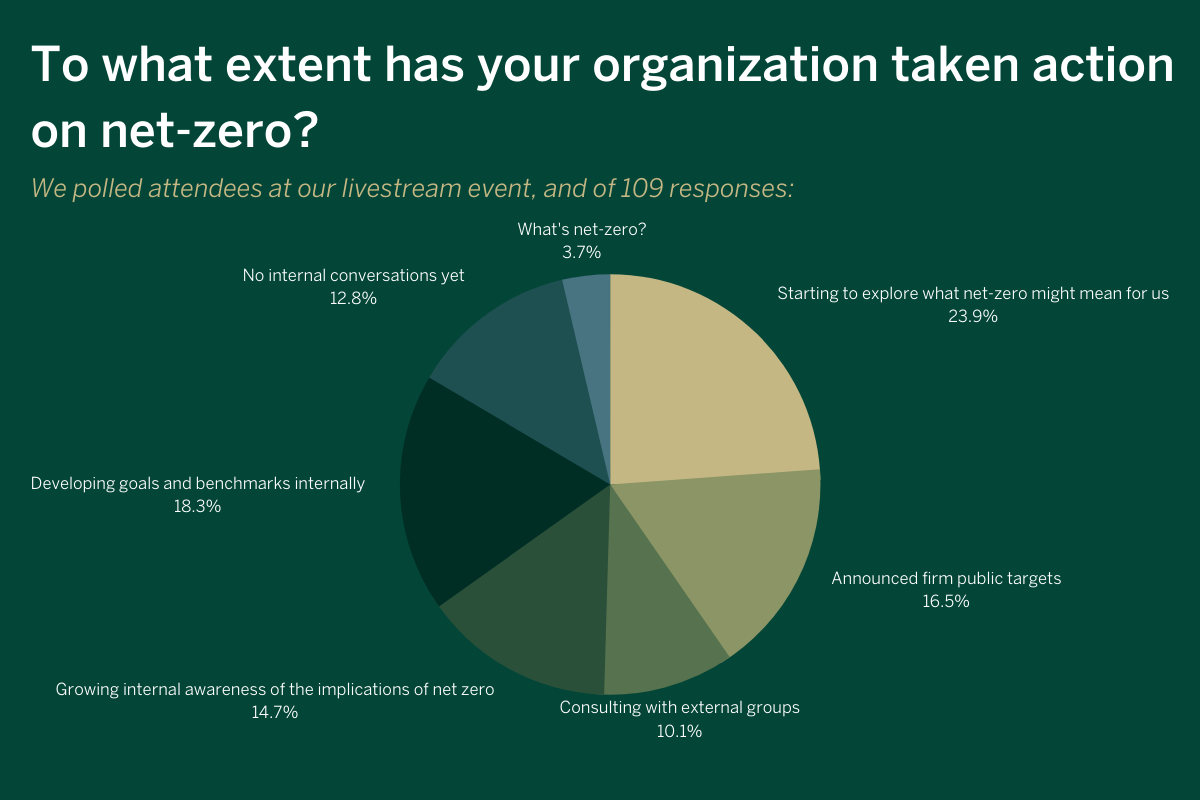 About the Ivey Net-Zero Series
Hundreds of businesses are making commitments to achieve net-zero greenhouse gas (GHG) emissions by 2050 (or earlier) in line with the goal of the Paris Climate Agreement. These commitments are being driven by a range of factors including investor pressure, the risk of stranded assets, evolving national policy frameworks and ratcheting societal expectations. The urgency for action has been accelerated with the dire warnings of the most recent IPCC Report and the forthcoming Climate COP in Glasgow in November 2021.
Establishing a credible path to net-zero presents major challenges, uncertain risks and transformative opportunities for firms to shift or completely alter key aspects of their business model, value chain and competitive positioning. Firms can capitalize on strategic opportunities, such as the possibilities of new products, services and markets, and novel ways of interacting with or serving customers.
However, much of the discourse 'lumps together' these strategic considerations with the technical complexities of pathways, technologies, solutions and measurement, which impede clear strategic thinking on the net-zero transition.  As we enter a decade of unprecedented transformation and disruption, the leaders will likely be the firms that take a strategic approach to net-zero – aligning ambitious emissions reductions with long-term business strategy, innovation and value creation.
Created in collaboration with the Centre for Building Sustainable Value, the Ivey Net-Zero Event Series will focus on the strategic implications and opportunities for business in pursuing a net-zero strategy for climate emissions.
The series is informed by Ivey's new research initiative, Canadian Corporate Strategies for Net-Zero: Planning for the Long Term, which is engaging and convening a unique cross-sector group of leading Canadian businesses taking bold climate action. Through exchange, dialogue and research, the initiative is identifying the opportunities and decision points to build ambitious and actionable net-zero strategies that position firms to thrive in a net-zero future.
The series will also tackle the new agenda for public-private collaboration to achieve ambitious climate goals, and will foster engagement with key climate solutions through an interactive application of the En-ROADS simulation. 
Additional Resources:
Ivey Business Journal — Why Directors Must Own Sustainability 
Manifest Climate Whitepaper — Closing the gap: Using the TCFD Data and Insights to Accelerate Change, and Five Keys to Success
Ivey Centre for Building Sustainable Value — The transition to net-zero: what are Canadian companies committing to?
Ivey Centre for Building Sustainable Value — Corporate Strategies for Net-Zero
About The Ivey Academy at Ivey Business School
The Ivey Academy at Ivey Business School is the home for executive Learning and Development (L&D) in Canada. It is Canada's only full-service L&D house, blending Financial Times top-ranked university-based executive education with talent assessment, instructional design and strategy, and behaviour change sustainment. 
Rooted in Ivey Business School's real-world leadership approach, The Ivey Academy is a place where professionals come to get better, to break old habits and establish new ones, to practice, to change, to obtain coaching and support, and to join a powerful peer network. Follow The Ivey Academy on LinkedIn, Twitter, and Instagram