CPA Ontario Certificate in Leadership
Select the path that's right for you — take programs individually, choose three programs to gain a Certificate in Leadership, and continue to a Master Certificate by completing five programs and a capstone experience. Combine cutting-edge material on a range of business topics from diversity to analytics and find practical ways to add new value for your organization.
Who should attend?
These individual courses and certificates are for CPAs and financial professionals who want to grow within their careers and pursue more advanced leadership roles.
Enhance Your Leadership
Learning Designed for You
Change is constant and organizations are continually evolving to keep up with the world around them, relying on leaders who can adapt and find opportunities through disruption. In partnership with CPA Ontario, we have developed a suite of professional development programs specifically tailored for CPAs to accelerate key leadership skills.
A Custom Learning Experience
As a leader, you are interested in sharpening your people, team and organizational leadership skills to inspire teams and drive performance. By selecting from a range of programs focused on critical leadership challenges, you'll learn to shape an organizational vision and manage change through disruption.
Working directly with expert Ivey faculty in live virtual sessions, you'll identify practical takeaways through deep discussion and simulations, before developing an implementation plan to tackle specific challenges at work. And since peer-learning is at the heart of each pathway, you'll collaborate and network with CPAs from a variety of industries and sectors.
Certificate in Leadership
Earn Leadership Credentials
Each completed course awards a digital badge to signify your accomplishment. You can share these badges across social media, websites, ePortfolios, professional networks, and email signatures to highlight your enhanced skillset and expertise. 
After completing three programs of your choice, you will receive a Certificate in Leadership. This powerful credential signifies your diverse leadership skillset and ability to manage through disruption.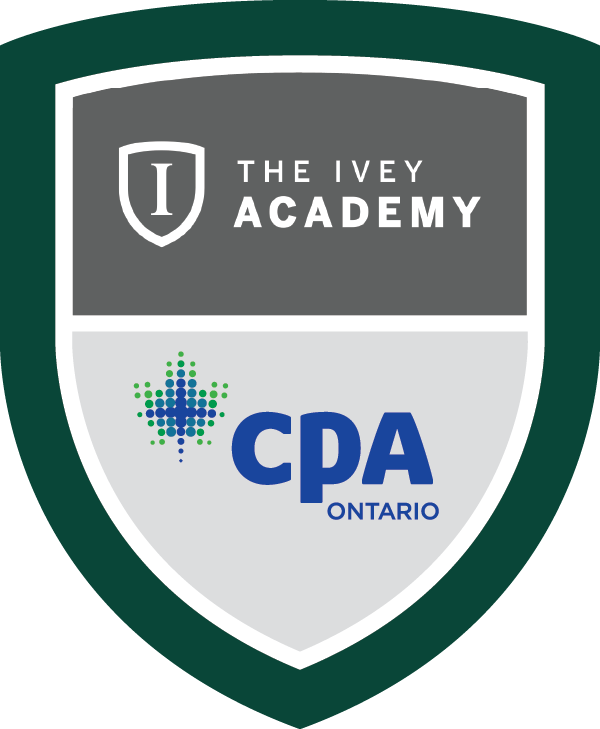 Key Takeaways
With each program completed, you'll earn an authentic digital artifact – also known as a badge. This badge links to a personalized digital certificate, showcasing your achievements and commitment to professional development.
Master Certificate in Leadership
Advanced Learning Outcomes
After completing five programs of your choice and a Capstone experience, you will receive a Master Certificate in Leadership. This advanced credential recognizes your ongoing commitment to personal leadership development and deep understanding across a range of critical modern business challenges.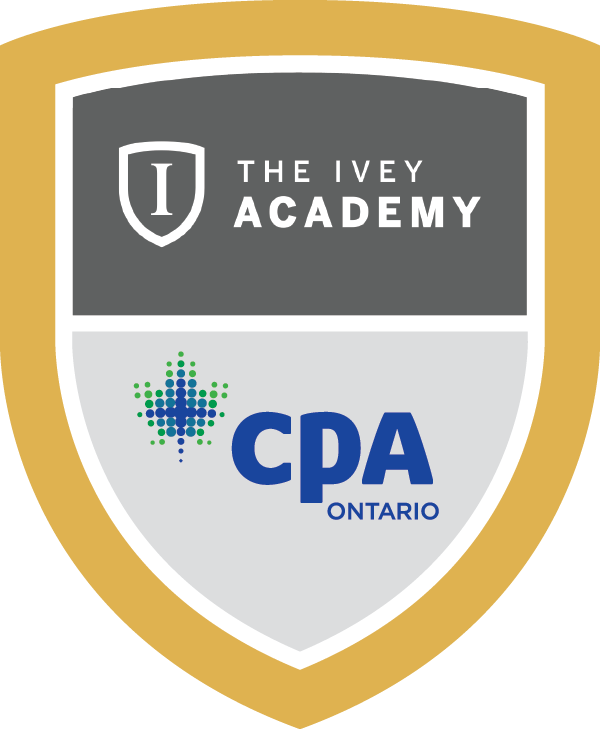 Key Takeaways
With each program completed, you'll earn an authentic digital artifact – also known as a badge. This badge links to a personalized digital certificate, showcasing your achievements and commitment to professional development.
How You Learn
Ivey Academy programs are deeply experiential, grounded in case research, and facilitated by expert faculty from Ivey Business School. Our real-world Case Method of Learning is not about textbooks and lectures – it's about learning by doing. You'll identify specific, practical learning takeaways through deep discussion and simulations, then develop an implementation plan with feedback from other leaders. You'll complete the program having gained new skills, heard insights from peers, and developed a clear strategy to tackle specific challenges back at work.
Self-paced Learning Activities
Prepare for live sessions using pre-recorded videos, readings, and case-studies – delivered at a flexible pace through our Canvas learning management system. Discuss ideas with your peers via a private forum and complete guided self-reflections to help apply key takeaways in your own role.
Live Faculty-led Sessions
Join live sessions featuring expert Ivey faculty using any computer or mobile device. With the help of a live technical director, we also call on the group to participate in real time.
Peer Learning Sessions
Virtual learning technology allows faculty to assign instant breakout groups during a larger session. Share experiences, exchange ideas, and collaborate to solve challenges together with your fellow participants.
Self-Assessments
Individual assessment tools enable deeper self-awareness, encouraging participants to reflect on their learning journey throughout the program. Apply valuable new personal discoveries to your constantly evolving identity as a leader.
Online Simulations
Facing a realistic simulated challenge, leaders can test action against immediate feedback. Played individually, simulations teach the application of concepts and frameworks in critical decision-making moments. Meanwhile, team-based simulations require participants to apply leadership skills and navigate team dynamics – just like in real life.
Spring 2022 Programs
Leading Performance and Change as a CPA
Begins May 16
Elevate your ability to inspire people and teams, lead through disruption and manage change, and drive results within your organization.​
$4,800
38 Professional Development Hours
Thinking, Acting, and Leading Inclusively as CPAs
Begins June 13
Understand the barriers to creating equitable work environments and learn how to cultivate a culture of diversity and inclusion within your organization. ​
$3,500
24 Professional Development Hours
Management in the Era of Data and Analytics for CPAs
Begins July 5
Unleash the potential of data analytics in your organization and get practical with Artificial Intelligence.
$2,400
17 Professional Development Hours
Upcoming Programs
Strategic Thinking and Decision-Making for CPAs
Learn to evaluate position and evidence to plan strategic action, overcome decision traps, and increase your decision readiness and confidence
$2,400
20 Professional Development Hours
Communication and Leadership Presence for CPAs
Learn how to cultivate your leadership presence by identifying and bringing your best self forward. Hone your communication skills, receive coaching from top-rated Ivey faculty, and practice with a peer network of other leaders.
$3,500
32 Professional Development Hours
Managing for Innovation as a CPA
Explore different approaches to innovation, confront some inherent challenges, and devise strategies to overcome them. Gain the skills to defy past thinking – even in examples where innovation has worked in the past -- break old habits, and tackle future challenges as an "innovation manager".​
$2,400
32 Professional Development Hours
Designing for an Interconnected World as a CPA
Build a resilient, sustainable organization with contemporary insights on systems design. 
$3,500
25 Professional Development Hours
Predicting Success: Great Ideas for CPAs
Learn how to evaluate new product ideas, use AI and big data to develop customer insights, and predict launch trajectory within unconventional markets. ​
$3,500
25 Professional Development Hours
Leadership Journey for CPAs: Finding Purpose in Crisis​
Find resilience through disruption. Level up your leadership capabilities and find your inner motivations to lead.​
$3,500
20 Professional Development Hours
Strategic Business Negotiations for CPAs
Develop a practical and successful negotiation approach that can be applied anywhere, anytime.
$3,500
25 Professional Development Hours