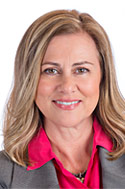 HBA '82
Co-Founder and Chair, Sleep Country Canada
Magee is the Co-Founder and Chair of Sleep Country Canada, the largest retailer of mattresses in Canada, providing outstanding in-store and home delivery service from over 118 corporate-owned stores in nine regional markets.
Christine believes strongly in sharing knowledge and staying involved in the community. She is frequently asked to speak at conferences, business associations, chambers of commerce and schools about issues pertaining to leadership and effective management strategies. Sleep Country Canada was also inducted into the Marketing Hall of Legends in 2005 and the Retail Council of Canada Hall of Fame in 2005.
She is a champion of the many charitable initiatives supported by Sleep Country, including the Donated Bed Program, Give a Kid a Coat, Backpack for Kids, Annual Food Drive in support of The Salvation Army, Adopt a Sheep in support of the Children's Miracle Network, and Basics for Babies.
In addition to her charitable work, Christine sits on the board at Sleep Country Canada Inc., is on the Board of Directors of both the Cott Corporation and St. Mildred's Lightbourne School, and is the former Chair of the Rouge Valley Health System Foundation's Vital Links Campaign from 2001 to 2005.
Christine was also the Honorary Chair of the Learning Partnership in 2002 and is currently a member of the Honorary Council of the Labour of Love Campaign of the Rouge Valley System Foundation, 2006 to 2008. She is also a member of the Advisory Council for the Ivey Business School at Western University.
Christine served as a Cabinet Member for the United Way of Greater Toronto in 2001 and 2002 and is currently the Account Executive, Retail Division of the 2006 United Way Campaign.
Christine's leadership and foresight led her to be named the Ontario Entrepreneur of the Year, Retail/Wholesale, by the Financial Post in 1998 and Consumers Choice Toronto Business Woman of the Year in 1999. She was also recognized as one of Canada's Top 40 Under 40 and received the Laurier Outstanding Business Leader Award from Wilfrid Laurier University in 2005. Most recently, Christine received an honorary Doctorate of Commerce from Ryerson University.