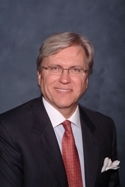 MBA '82, LLD '13
President & CEO, First Generation Capital Inc.
Ian Ihnatowycz is the President and CEO of First Generation Capital Inc., a private investment holding company. Formerly President and Chief Executive Officer of Acuity Investment Management Inc. and Acuity Funds Ltd., Mr. Ihnatowycz founded Acuity in 1990 to provide discretionary asset management for pension, foundation and private clients as well as mutual and pooled funds. A leader in sustainable investing, Acuity was the first Canadian advisor to the United Nations on the integration of environmental, social and governance factors within investment management, and the firm had won many awards for investment performance. On February 1, 2011, Acuity and its assets of $7.6 billion were sold.
Mr. Ihnatowycz has served on the boards of numerous not-for-profit and professional organizations and private companies, is currently a member of the Board of Directors of Myca Health Inc., Kardium Inc., Wellbox Inc., Real Imaging Ltd., Fulcrum Management Solutions Ltd., Acerus Pharmaceuticals Corporation and the Royal Conservatory of Music, is a member of the Ivey Advisory Board, the Ian O. Ihnatowycz Institute for Leadership Advisory Board of the Ivey Business School and a member of the Investment Advisory Committee of Imperial Capital Acquisition Fund V.