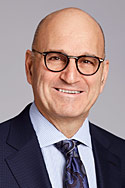 MBA '82
Chairman & Chief Executive Officer, Harry Rosen Inc.
Eldest son of Harry Rosen, Larry Rosen has worked for the company for more than 25 years in many different areas: on the sales floor, as a buyer, in operations and corporate development. Larry began learning the business as a teenager, working summers as a sales associate in Harry Rosen stores. He obtained a Bachelor of Arts degree from the University of Toronto and went on to earn a Masters of Business Administration from the Ivey Business School and Bachelor of Laws Degree from Western University.
After practising corporate law in Toronto, Larry joined Harry Rosen as a buyer in 1985. He then became involved in store operations at a senior management level, and then became Buying Director.
In 1997 Larry was named President and Chief Operating Officer. He was appointed Chairman and Chief Executive Officer in 2000.
Larry is a member of the Ivey Advisory Board, the Ivey Entrepreneurship Advisory Council, and the Princess Margaret Cancer Foundation Board. He is the chair of Golf to Conquer Cancer and has spearheaded other charitable events which have raised over $4 million in recent years for cancer research.
In 2014, Larry Rosen was named Distinguished Retailer of the Year by the Retail Council of Canada, as well as DesignThinker of the Year - presented by the Association of Registered Graphic Designers (RGD) and Rotman School of Management.
Larry is married to Susan Jackson who practised law on Bay Street for 20 years and retired nine years ago. They have three sons ages 27, 26, and 24.