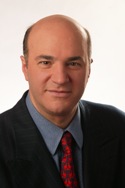 MBA '80
Chairman, O'Leary Funds
Kevin attended the University of Waterloo where in 1977 he received an Honors Bachelors degree in Environmental Studies and Psychology. He received a Masters in Business Administration from the Ivey Business School in 1980. After working briefly as an assistant product manager at Nabisco Brands, he left to pursue a career in television production and became a founding partner in Special Event Television, an independent production company that produced original sports programming such as "The Original Six", "Don Cherry's Grapevine" and "Bobby Orr and the Hockey Legends".
Mr. O'Leary co-founded SoftKey Software Products in Toronto, Canada in 1983 and was President until The Mattel Toy Company acquired the company for $3.7 Billion in early 1999.
Today Kevin O'Leary is the Chairman of O'Leary Funds and Manager of the publically traded family of O'Leary Global Equity and Income Funds. He also serves on the Dean's advisory board of the Ivey Business School at Western University. He is the chair of the investment committee of Boston's 107-year old Hamilton Trust. He is also co-host of the Lang/O'Leary Exchange on CBC News Network, and the CBC's venture capital reality TV program "Dragons' Den." He is also an investor/host of ABC Television's venture capital reality program "Shark Tank" produced by Mark Burnett.