The Ivey Alumni Network (IAN) is committed to supporting equity, diversity and inclusion among students and graduates. As we celebrate Homecoming, the IAN encourages you to explore which traditional lands you are situated on, and consider your relationship to them and their history. A great starting point is https://native-land.ca/
The IAN acknowledges that the Ivey Business School at Western University is located on the traditional lands of the Anishinaabek, Haudenosaunee, Lūnaapéewak, and Attawandaron peoples, on lands connected with the London Township and Sombra Treaties of 1796 and the Dish with One Spoon Covenant Wampum. This land continues to be home to diverse Indigenous peoples (e.g. First Nations, Métis and Inuit) whom we recognize as contemporary stewards of the land and vital contributors of our society.


Saturday, September 25 from 11 - 11:30 a.m. EDT
With over 12,700 alumni that have participated since its inception, this initiative provides all Ivey alumni with the opportunity to recite the Ivey Pledge to act honourably and ethically, while receiving a unique, individually numbered Ivey Ring. Note: Registration closed at 11:30 p.m. on Thursday, September 23.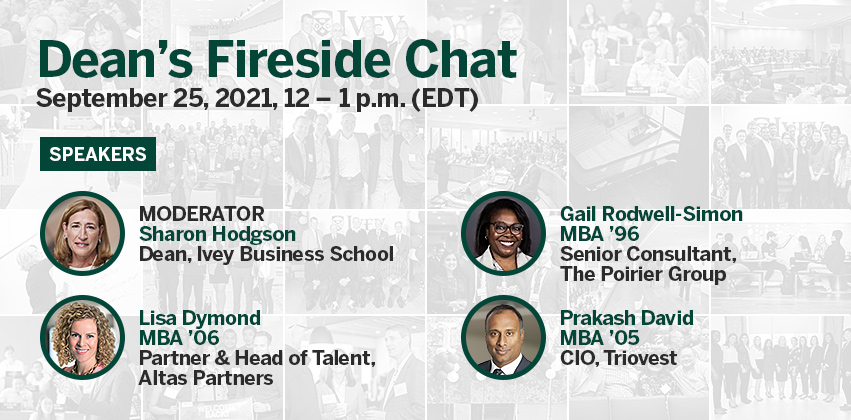 Saturday, September 25 from 12 - 1 p.m. EDT
Please join Dean Sharon Hodgson in conversation with a panel of alumni as they discuss the future of work, real estate, and retail.  The event will premiere at noon EDT and be available on-demand post-event.
Speakers

Prakash David, MBA '05 – CIO, Triovest
Lisa Dymond, MBA '06 - Partner & Head of Talent, Altas Partners
Gail Rodwell-Simon, MBA '96 - Senior Consultant, The Poirier Group