Faculty members play a key role in building the unique Ivey learning experience by creating an exciting classroom environment and supporting individual students academically, professionally and personally. Years after graduation, alumni find the words of favourite professors echoing in their ears as they face key business decisions. Many remain in close touch with these extraordinary mentors and "leader breeders."
2018 Award Recipient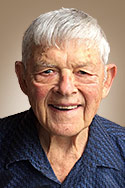 Professor Emeritus Ross Archibald, HBA '58

Professor Emeritus Ross Archibald retired as a full professor after 33 years of teaching accounting at the Ivey Business School. During his time at Western, he served for many years on the Board of Examiners of the Canadian Institute of Chartered Accountants, as well as on the Western Pension Board, where he served as Chair. He worked on noteworthy research with colleague David Shaw, sponsored by the Toronto Stock Exchange, entitled The Management of Change in the Canadian Securities Industry.
Prior to teaching at Ivey, Professor Archibald worked at Clarkson, Gordon and Co. in London. In 2001, he was presented with the L.S. Rosen Award, given in recognition of outstanding contributions to Canadian Accounting Education. In 2012, he received the Frank S. Capon Award by the Canadian Financial Executive Institute for his contributions to the organization, most notably for his research on the pension plans of their member companies.
Professor Archibald obtained his HBA from the Ivey Business School at Western University in 1958. He went on to earn his Chartered Accountant designation in 1961, and his PhD in accounting from the University of Chicago's Graduate School of Business. In 1973, he was awarded his Fellow Chartered Accountant designation following his work for the Canadian Institute of Chartered Accountants.
Both during his time at the School and in retirement, Professor Archibald has remained active in the Ivey Alumni Network, helping to organize many Homecoming reunions for his HBA '58 classmates.
Service Contributing to Nomination/Award Selection:
Alumni Class Liaison (2003-Present)
Homecoming/Reunion Social Organizer (1998-Present)
Regular Event Participant (Global Ivey Day, Homecoming, Scholarship Events, Golden Alumni Brunch, and more.)
UWO Faculty & Staff Canvasser (1998)
UWO Long Service Award recipient (1991)
Previous Recipients
2017
Associate Professor Craig Dunbar
Watch the video presented at Ivey Homecoming in October 2017.
2016
Associate Professor Rod White, HBA '74
Watch the video presented at Ivey Homecoming in September 2016.
2015
Professor Gerard Seijts
Watch the video presented at Ivey Homecoming in September 2015.
2014
Professor Jim Erskine, MBA '67
Watch the video presented at Ivey Homecoming in September 2014.
2013
Professor Murrary Bryant
Watch the video presented at Ivey Homecoming in September 2013.
2012
Professor David Conklin
Watch the video displayed at Homecoming 2012 honouring Professor Conklin as well as the Distinguished Service Award Recipients.
2011
Professor Kenneth (Ken) G. Hardy, HBA '63
Learn more about Ken's contributions to alumni in our video.
2008
Professor James (Jim) Hatch
2007
Professor Eric Morse
2005
Professor Jeffrey Gandz
2003
Professor Rick Robertson, HBA '75, MBA '84, PhD '87
2002
Joe DiStefano and Larry Wynant, MBA '72
2001
John Graham, MBA '58, and Michael Parent
2000
Michael Pearce, HBA '68, and Kathleen Slaughter