Faculty members play a key role in building the unique Ivey learning experience by creating an exciting classroom environment and supporting individual students academically, professionally and personally. Years after graduation, alumni find the words of favourite professors echoing in their ears as they face key business decisions. Many remain in close touch with these extraordinary mentors and "leader breeders."
2020 Award Recipient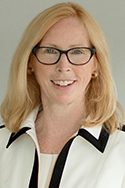 Mary Crossan, MBA '85, PhD '91
Mary Crossan is a Professor of Strategic Leadership at the Ivey Business School and was awarded Western University's highest honour – Distinguished University Professor – for sustained excellence in teaching, research and service over a substantial career at Western. Prior to joining the School, Crossan worked for such organizations as Bell Canada, the RCMP, Finance Canada and the Canadian Centre for Justice Statistics. She earned a BA, MBA, and Ph.D. from Western University.

Mary teaches in the undergraduate, MBA, Ph.D. and Executive Programs. Her research on organizational learning and strategic renewal, leader character and improvisation has been widely published in such journals as the Strategic Management Journal, Academy of Management Review, Organization Science, the Journal of Management Studies, Leadership Quarterly and Organization Dynamics.

She has extended her research to management practice through a collection of over 50 cases, many of which have been published in a book she co-authored entitled Strategic Management: A Casebook. She is also an author of the Developing Leadership Character book, the Strategic Analysis and Action textbook and has been acknowledged as one of the top case-writers in the world. Her Starbucks case alone has sold over 100,000 copies.

In a joint venture between the Ivey Business School and the Second City Improvisation Company, Mary developed a management video entitled Improvise to Innovate which extends traditional concepts of strategic management to development tools and techniques for more innovative, flexible and responsive strategic action.

Her recent research focuses on the development of leader character as a critical foundation to support and elevate leader competencies. She and her colleagues have developed courses, cases, a diagnostic assessment to develop leader character and she is a co-author of Developing Leadership Character published by Routledge.

Her research, case-writing and consulting have provided broad exposure to companies around the world including HSBC, Mattel Asia, Bank of Montreal, TD Bank, CIBC, Sun Life, Manulife, General Dynamics, many public sector organizations, and an NHL team.

She and her husband Larry have a daughter Corey and son Matt. They collectively share a love of sports and she has transitioned from her days playing varsity volleyball to sports like skiing and golf she can enjoy with her family. Hot yoga several times a week is a mainstay.
Service Contributing to Nomination/Award Selection:
Participated and Featured in Intouch (1999, 2002, 2006, 2015, 2016, 2018, 2019)
Ivey Emerging Leaders Award Recipient (2018)
Ivey Ring Volunteer (2016)
Global Ivey Day Attendee (2012, 2015)
Homecoming Attendee (1999, 2005, 2010, 2014, 2015)
Previous Recipients
2019
Associate Professor Nicole Haggerty, HBA '89, PhD '04
Watch the video presented at Ivey Homecoming in 2019.
2018
Professor Emeritus Ross Archibald, HBA '58
Watch the video presented at Ivey Homecoming in 2018.
2017
Associate Professor Craig Dunbar
Watch the video presented at Ivey Homecoming in  2017.
2016
Professor Emeritus Rod White, HBA '74
Watch the video presented at Ivey Homecoming in 2016.
2015
Professor Gerard Seijts
Watch the video presented at Ivey Homecoming in 2015.
2014
Professor Emeritus Jim Erskine, MBA '67
Watch the video presented at Ivey Homecoming in 2014.
2013
Professor Emeritus Murray Bryant
Watch the video presented at Ivey Homecoming in 2013.
2012
Professor Emeritus David Conklin
Watch the video presented at Ivey Homecoming in 2012. 
2011
Professor Emeritus Kenneth (Ken) G. Hardy, HBA '63
Watch the video presented at Ivey Homecoming in 2011. 
2008
Professor Emeritus James (Jim) Hatch
2007
Professor Eric Morse
2005
Professor Emeritus Jeffrey Gandz
2003
Professor Emeritus Rick Robertson, HBA '75, MBA '84, PhD '87
2002
Professor Emeritus Joe DiStefano and Professor Emeritus Larry Wynant, MBA '72
2001
Professor Emeritus John Graham, MBA '58, and Professor Michael Parent
2000
Professor Emeritus Michael Pearce, HBA '68, and Professor Emeritus Kathleen Slaughter