The Ben Graham Centre for Value Investing held its 2015 Stock Picking Competition at the MBA level in Toronto on April 14, 2015. Teams from MBA schools from around the world competed for $17,500 in cash prizes. Three finalist teams made presentations to a panel of distinguished value investors at the Ivey Tangerine Leadership Centre in Toronto. On April 15, they attended the Ben Graham Centre's Value Investing Conference and on April 16, the Fairfax Financial Holdings Ltd. Annual General Meeting in Toronto, Canada.
Sponsorship
We would like to thank our key sponsor Burgundy Asset Management Ltd. as well as Empire Life Investments Inc. for their generous support in sponsoring the 2015 competition.

Media Coverage
"Highlights from Fairfax Lollapalooza 2015"
Moneysense, May 1, 2015.
"Stock picking challenge helps students understand value investing"
Ivey Business School, April 27, 2015.
"The next generation of value investors: No slouches"
The Globe and Mail, April 24, 2015.
"Rock stars of value investing set to gather in Toronto for Fairfax meeting"
The Globe and Mail, April 12, 2015.

Participating Schools
The following schools participated in the 2015 Ben Graham Centre's stock picking competition and contributed to the competition's success. Each of these schools put forward excellent research reports in the first round of the competition making the judges choices for the final round challenging.
Bradley University
Cambridge University – Judge Business School
Carnegie Mellon University – Tepper School of Business
Columbia University – Columbia Business School
Dartmouth College – Tuck School of Business
HEC Montreal
Hong Kong University of Science and Technology – HKUST Business School
IE Business School
London Business School
McGill University – Desautels Faculty of Management
Monash University
Nanyang Technology University
Northwestern University – Kellogg School of Management
SDA Bocconi School of Managementl
Symbiosis Institute of Business Management Pune
T A Pai Management Institute Manipal
University of California Berkley – Haas Business School
University of Edinburgh Business School
University of North Carolina - Kenan-Flagler Business School
University of Southern California - Marshall School of Business
University of Toronto – Rotman School of Management
University of Virginia – Darden School of Business
Western University – Ivey Business School
York University – Schulich School of Business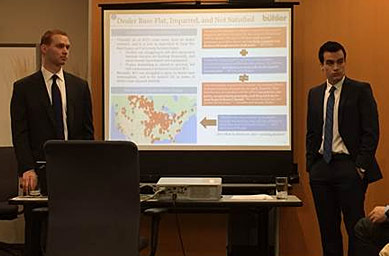 Kellogg School of Management, Northwestern University students, Alex Acosta, Will Mandersheid and Anish Pasar present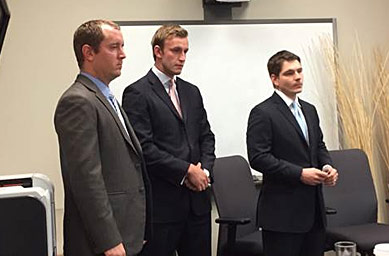 Haas School of Business, University of California Berkeley students Tom Garland, Zane Keller and Ryan Stanely present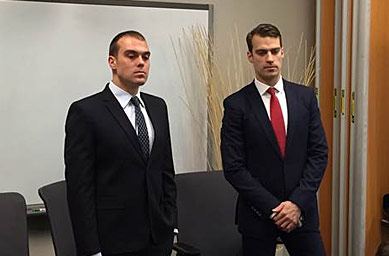 Ivey Business School students James Barnby and Peter Gillespie present
Winners of the 2015 Competition
Three teams were selected to participate in the competition finals held on April 14th, 2015 in Toronto, Canada. The panel of judges was thoroughly impressed by all three presentations. The finalist teams were ranked as follows:
1st Place: Kellogg School of Management, Northwestern University
Team members: Alex Acosta, Will Mandersheid and Anish Pasari
2nd Place: Haas School of Business, University of California Berkeley
Team members: Tom Garland, Zane Keller and Ryan Stanley
3rd Place: Ivey Business School at Western University
Team members: James Barnby and Peter Gillespie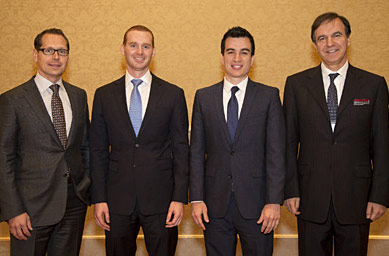 Ken Broekaert of Burgundy Asset Management (far left) and Ivey Professor George Athanassakos (far right) with two members of the winning team: Will Manderscheid and Alex Acosta of the Kellogg School of Management