About the Building
Funding for this project is being provided by the Government of Canada's Knowledge Infrastructure Program and through the Ontario Government's 2009 Budget as part of efforts to help modernize facilities and boost long-term research and skills training capacity at provincial colleges and universities.


Facts
Square footage: 270,000 square feet (current building: 150,000 square feet)
Total Cost: $110 Million
Leadership in Energy and Environmental Design (LEED) : Gold level certification
Location: 1255 Western Road, in front of Brescia University College (Map of Site)
Grand Opening:  September 2013

The Richard Ivey Building boasts:
15 78-seat Classrooms and 5 50-seat Classrooms
112 Faculty Offices
52 Traditional Breakout Rooms
36 Staff Meeting rooms
9 Conference rooms
7 Lounges
8 Open Concept Work Areas
1 640-seat Auditorium
Art Collection
Learn more about the collection of Canadian art displayed throughout the Ivey Business School.
Jon Love (Chair), HBA '76, Managing Partner, KingSett Capital Inc.
Ruban Chelladurai, Associate Vice-President (Institutional Planning and Budgeting), Western University
Andy Chisholm, MBA '85, Senior Strategy Officer, Goldman Sachs & Co.
Kelly Cole, Executive Director, Advancement, Ivey Business School
Brian Curtner, Principal, Quadrangle Architects Limited
Niraj Dawar, Professor, Marketing, Ivey Business School
Craig Dunbar, Professor, Finance, Ivey Business School
John Irwin, CFO/CIO/Director of Facilities, Ivey Business School
Fraser Latta, HBA '76, President, Jenal Investments Inc.
Ted Matthews, Brand Coach, Founding Partner, Author, Keynote Speaker, Instinct Brand Equity Coaches Inc. 
Mike McLean, Manager, Planning, Design & Project Administration, Western University, Facilities Management
Pierre Pomerleau, MBA '89, President & CEO, Pomerleau Inc.
George Qubty, Director of Facilities Engineering, Western University, Facilities Management
Carol Stephenson, Dean, Ivey Business School
Alan Weedon, Vice-Provost (Academic Planning, Policy and Faculty), Western University
Larry Wynant, MBA '72, Professor Emeritus, Finance, Ivey Business School
Richard Ivey Building Information Booklet
Learn the key dates, named spaces, facts, statistics, and everything else you need to know about the Richard Ivey Building by reading the Richard Ivey Building Information Booklet or download the PDF.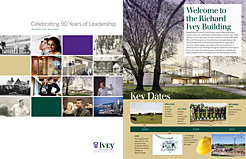 Going for LEED® Gold: Sustainable design in the Richard Ivey Building
Ivey's inspiring Richard Ivey Building incorporates more than just state-of-the-art architectural design. It also integrates the best in green building, design, and construction. Learn how the building contributes to well-being for us and our neighbours.