Describe the role you play professionally:
My mandate is to identify, develop, and execute strategies that contribute to the sustainable growth, profitability, and overall success of the Canadian Banking business deposits portfolios.
What is the most challenging aspect of your job?
The most challenging part of my mandate is growing and modernizing a large and mature portfolio through digitization and new value propositions. This responsibility has proven to be exciting, as my firm has invested in advancing our technological capabilities and all stakeholders have committed to truly understanding and delivering against what our customers expect from their financial services providers.
What is your biggest professional accomplishment?
My biggest accomplishments have been when we successfully introduce new solutions (products) that address customer needs in the marketplace. The amount of research, time and money, teamwork, and personal commitment that go into each launch is substantial. I've been fortunate to have been part of this process a few times and it is immensely rewarding when the delivery is well received in the market and the financial contribution to the firm is strong.
Why did you decide to do an EMBA?
Being part of the same organization for most of my career, I wanted to engage with leaders that had varied backgrounds and operated in different industries. I was eager to hear what issues they faced, how they overcame challenges, and how they defined their strategic growth plans. I also pursued an EMBA for advanced training and education from a top-tier school like Ivey.
What is the most significant thing you've learned at Ivey?
Aside from the technical learnings, I've been most impressed by the fact that, irrespective of industry, we're all facing fundamentally similar issues. More importantly, the principles of leading our people/businesses through these challenges are transferable across firms.
What's been the most surprising aspect of the Executive MBA journey to date?
That I've been able to keep up! While work, life, and school are demanding, my ability to prioritize focus areas at different times has become critical. With the support of my family and work team, I've been pleasantly surprised at how much can be achieved when it's important to you. 
What books are on your bedside table right now?
Right now, I don't have a lot of time for leisurely reading, so it's mostly Strategic Analysis and Actionand Financial Management: Concepts and Applications!
How do you manage stress (i.e. sports, exercise, meditation etc.)?
For me, it's important to maintain free time to have fun with family and friends; other than that, it's watching Netflix!
EMBA '20
Ivey Business School
Adam Gabriel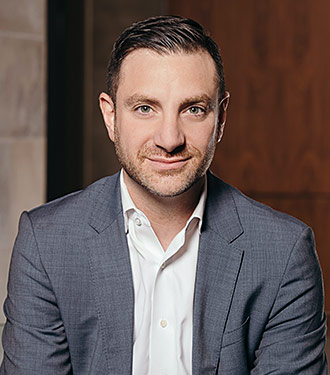 Director, Canadian Business Deposits, Scotiabank
Toronto, Ontario, Canada