Describe the role you play professionally.
As a Group Retirement Consultant, I establish relationships with executives of mid-market corporations to provide a financial wellness benefit. This allows employees the ability to receive financial planning advice on company premises through RBC Royal Bank via a company sponsored employee savings plan.  Our solution provides employers the tools to build and retain a healthy workforce.
Given my many years of experience as a Financial Planner, I also take on a dual role as a wealth management consultant providing employees the ability to access advisors through our various segments at RBC Wealth Management, RBC Private Banking, and RBC Dominion Securities. Employers can now provide their employees with the benefit of a more comprehensive, robust, and holistic group retirement solution, unique in the group retirement industry.
What is the most challenging aspect of your job?
While I currently do not have direct reports, I collaborate with senior leaders within RBC to impact and influence internal partners such as Commercial and Private Bankers, Investment Advisors and retail banking to drive client acquisition via non-conventional means. It's important to articulate the value proposition in a manner where it is viewed as a complement to their offerings to high-valued business owner clients. As I am often visiting clients, it can be difficult to keep this top of mind. Finding a balance between providing excellent service to clients while maintaining strong relationships with centres of influence is integral to one's success as a consultant.
What is your biggest professional accomplishment?
My biggest professional accomplishment to date was receiving the RBC National Convention Award in 2015. The award recognizes the top group consultants in Canada for results, leadership, and   consistently demonstrating RBC's guiding principles. The RBC Convention Award treated the winners to a weeklong trip along with RBC Executives to South Beach, Miami.
Additional Information
What books are on your bedside table right now?
I currently have the following books on bedside table:
The Power of Positivity by Normal Peale
Alex Ferguson: My Autobiography
The 2020 Workplace by J.C. Meister and K. Willyerd
Oh, and of course my Ivey EMBA Case studies…Can't forget those!
How do you manage stress (i.e. sports, exercise, meditation)?
My number one stress relief is playing soccer. I grew up playing competitive soccer and I continue to incorporate this as part of my lifestyle.
Music is also a great stress relief for me. I listen to a wide array of music from 80's classics to jazz, funk, and R&B. Music is playing once I wake up, during my workout and well…everywhere!
What is the most significant thing you've learned at Ivey?
It's really hard to narrow it down to just one significant thing, as I've gained a tremendous amount of knowledge from the amazing professors, as well as the experienced and diverse classmates I am fortunate to learn from. However, in the past I made the assumption that great leaders are made through having the ability to make great decisions from the gut. Although that is still a valuable instinct to have, it is important to be able to interpret data and external factors to truly assess an organization's success. The scope of my overall business acumen has definitely grown in such a short span. I am excited for what's to come in the remaining ten months at Ivey.
What's been the most surprising aspect of the Executive MBA journey to date?
Unfamiliar with the case-study approach, I wasn't quite sure what to expect. Now that I am immersed in my Ivey EMBA journey, I see that I'm blessed to be part of a diverse cohort that has exceptional comradery and support for one another. Due to the educational style at Ivey, I have learned as much from my classmates as I have from the professors and this has contributed to such a dynamic learning environment.    
Another surprising aspect of the EMBA journey has been the appreciation of time. I've always felt I was a busy individual with work, family, and extra-curricular. It's amazing how much time you realize you actually have when you have to fit in readings, case studies, projects, exams, etc. This journey truly develops great skills in time management and a disciplined approach to being more efficient while being productive. These are qualities I will definitely carry forward well beyond my Ivey EMBA journey.
EMBA '17
Ivey Business School
Agho Eric Onagbeboma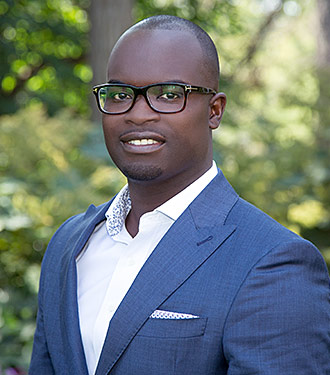 Consultant, Group Retirement Solutions, RBC Royal Bank
Toronto, Ontario