Describe the role you play professionally.
Compassion is a global child development organization that exists to end poverty in the lives of children and their families. We currently work in 25 developing countries to holistically develop two million children living in extreme poverty. In addition to managing our day-to-day operations in Canada, I speak at events, churches, and academic institutions across the country and represent the organization to other charities and sector associations.
What is the most challenging aspect of your job?
The most challenging aspects of my job are similar to what other senior executives face: Effectively balancing short-term stability and long-term viability; continually evaluating the most essential work I bring unique value to, while empowering others to do the rest; and effectively navigating the multiple hats I wear as creator, cultivator, communicator, and coach.
What is your biggest professional accomplishment?
The most significant leadership milestone in my life was the unanimous decision of our board of directors to elect me as the next President and CEO, and the opportunity to build a methodical change management plan with a leader who has been at the helm for over 25 years. This story is still being written, but it has been a joy to participate in such a well-planned succession process and to witness our staff and partners honour the past, celebrate the present, and embrace the future.
Why did you decide to do an EMBA?
My desire in pursuing the EMBA was to gain more critical business practices for our complex and fast-changing world, while journeying with other like-minded, yet diverse, professionals. I wanted to broaden my perspective to look at challenges more holistically, increase my understanding of organizational dependencies, and develop a more systematic approach to handling modern business problems.
What is the most significant thing you've learned at Ivey?
In my everyday life as a leader, the most valuable and finite resource I have is time. It is no different at Ivey. The fast-paced nature of the program forces you to process information quickly while discerning what truly warrants your time and attention. To that end, Ivey is honing my ability to appropriately handle complex and time-bound challenges with a growing set of analytical and decision-making tools.   
What's been the most surprising aspect of the Executive MBA journey to date?
I've been surprised by how down to earth my professors and classmates are, and how enjoyable our time together is. I'm someone who likes to have fun with those I work alongside, so I've been delighted to experience that in the Ivey classroom. It is a lot of work and it is challenging work, but I'm going to miss our time together when the program is over.   
What books are on your bedside table right now?
Most of my time is spent reading Ivey material, but I do have three books on my desk that are collecting dust for now: Subscribed by Tien Tzuo, Uncharitable by Dan Pallotta, and Factfulness by Hans Rosling.
How do you manage stress (i.e. sports, exercise, meditation)?
I wake up quite early to take advantage of uninterrupted time to reflect, exercise, and do deep work. That helps me get a head start on my day while keeping stress at bay. I'm also a pretty disciplined person, so I plan my days and weeks to ensure I accomplish the most important things on my list, which always includes time with my husband and two daughters.
Industry: Charities/Not-for-Profit
Allison Alley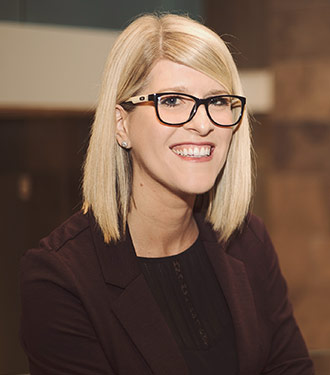 President Elect, Compassion Canada
London, Ontario