Describe the role you play professionally.
In my current role I lead an ERP implementation project for core operational assets of Barrick Gold mining company. I was selected to perform this role based on my previous managerial and financial accounting experience with Glencore, a largest diversified commodities producer and trader. My current role includes managing a team of consultants who are helping us with the implementation, leading multi-country team of business subject matter experts and coordinating our team efforts with IT Enterprise systems group of our organization as well. Critical part of our project implementation success includes leading a change management across many business functions and cultures.
What is the most challenging aspect of your job?
As surprising or not surprising it might sound but the most challenging part of my current job is the change management aspect in terms of transforming people's mindset. I find it most challenging and rewarding at the same time to be able to demonstrate and convince people who are professionals of extraordinary quality in their respective fields of operations, that there are better, more efficient and effective ways of performing the tasks at hand. It is amazing, how difficult it can be to explain simple concepts in simple terms to people. Also, I always need to remind myself to be open-minded in order to embrace, evaluate and incorporate all ideas and different perspectives of multiple functional and divisional interest groups.
What is your biggest professional accomplishment?
Throughout my 10-year career in Canada, I was able to successfully design and improve financial reporting frameworks for the Companies I worked for. Within the last 4 month I was able to transition my career to work closely with people across various functions throughout multi-layers of the organization and leading transformational changes initiatives. By applying decision making tools and framework learnt in the past five months at Ivey I was able to provide valuable options and recommendations for solving conceptual design issues and process changes within our organization.
Additional Information
What's on your bedside table right now?
Most of the time I read cases, supplementing articles and material, but when I have time (which is a big event by itself these days alreadyJ) I come back to my favorite authors. I am a huge fan of Paolo Coelho and his works, read many of his novels, like the Alchemist, The Zahir, The Winner Stands Alone, and many other, but the book I re-read time to time is Like the Flowing River- a collection of stories reflecting many of Paolo Coelho's lifetime experiences that are priceless and eye opening. The other author I come back to all the time is Gabriel Garcia Marquez and his Chronicle of a Death Foretold.
How do you manage stress (i.e. sports, exercise, meditation)?
This is the hardest part of this 17-month journey, considering the fact that I have a busy life balancing between Ivey, work and family with two active and demanding boys (10 and 5). When weather permits I run outside and play tennis with my 10 year-old, in a winter time I go to gym and Zumba classes twice a week. Reading books and doing brain training exercises are another way to unwind.
What is the most significant thing you've learned at Ivey?
That I truly want to become an effective and transformational leader. I've also learnt that there is no marketing, financial, operational, supply chain or human resource issue in your hands to resolve in isolation- it is rather a business issue that impacts all aspects of the Company to the lowest or highest extent.
What's been the most surprising aspect of the Executive MBA journey to date?
That "Trust the Process" moto really works, for the next 17 months there will be no time to stop and the layers of trusting your peers and learning group members is multidimensional and unlimited.
EMBA '17
Ivey Business School
Anna Mkrtchyan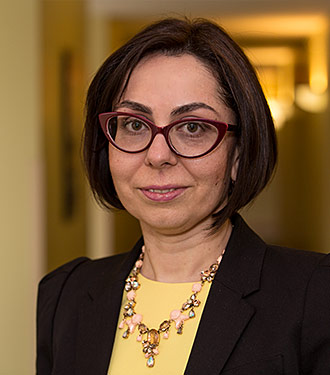 Senior Manager, Business Transformation, Barrick Gold Corporation
Toronto, Ontario