Describe the role you play professionally:
I work within a diverse set of cross-functioning teams to execute missions of significance to the Government of Canada. This role requires members to engage in operational and tactical planning processes, implementation practices, performance evaluations, and process improvement initiatives.
It is a highly fluid and adaptable role where technical skills combine with intuition and instinct to produce and implement solutions to complex problems, often under considerable time constraints.
What is the most challenging aspect of your job?
Speaking strictly professionally, it can be a challenge to develop solutions in environments generally characterized by a substantial breadth and degree of constraints and restraints. You must find a way to adapt your tools and abilities to conform to the multitude of changing regulations and policies as a theatre of operations evolves.
Speaking personally, my biggest challenge was striving to maintain and improve my technical skills. Being an operator means showing up and performing every day. Standing shoulder to shoulder with the members of CANSOFCOM and feeling like you belong is a constant yet very rewarding battle!
What is your biggest professional accomplishment?
Simply being employed in the units I've served in feels like an incredible accomplishment. Successfully completing the extremely rigorous selection programs and passing the equally difficult qualification courses is a reward in itself. Subsequent to being qualified, the operations I've been involved in have shaped the man I am and have imbued me with the confidence to strive for excellence in everything I do. In a way, that has led me to Ivey. So I could also say that my biggest professional accomplishment is being right where I am today.
Why did you decide to do an EMBA?
I started investing in stocks in 2015, which led to me doing the Canadian Securities Course. That led to me enrolling in the Chartered Financial Analyst (CFA) program and I wrote level 1 in December of 2017. That program is where the complexity, excitement, and opportunity of the business world, in particular finance, really sunk its teeth into me. After sustaining some injuries and the birth of our daughter, I started looking for potential career transition opportunities. The format and timeline of the EMBA, coupled with my newfound love for business, seemed like the perfect avenue to achieve this goal.
What is the most significant thing you've learned at Ivey?
Hands down, without a doubt, the character, skills, and knowledge I have gained from military service are directly applicable to business. I absolutely did need some polish, and to enhance my experience with technical knowledge learned through the EMBA, but what I bring to the table is definitely transferrable.
What's been the most surprising aspect of the Executive MBA journey to date?
I am amazed at how much I have learned. The benefits of this program run far beyond knowledge and technical skills; it is truly a transformational process! Also the quality and level of knowledge of my classmates is amazing. Although this is well-telegraphed in much of the promotional material, it is something else to see it live!
What books are on your bedside table right now?
Originals by Adam Grant and Thinking Fast & Slow by Daniel Kahneman, and a special issue of Time magazine on the history of beer.
How do you manage stress (i.e. sports, exercise, meditation etc.)?
I try to concentrate on my objectives. Talking about these goals and the benefits of future outcomes with friends and family deepens my internalization of their importance and helps to keep me motivated.
One skill that I've further developed through the program is to immediately combat negative self-talk with a positive narrative. It is critical to stay positive, and reciprocal support from my fellow cohorts has been instrumental in that imperative. I can't say enough about them.
EMBA '20
Ivey Business School
Ben Leuenberger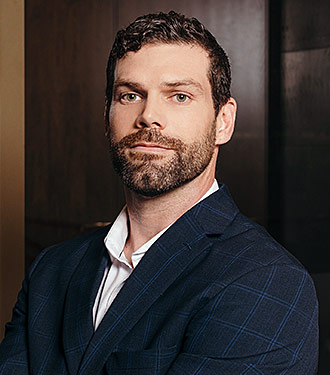 Special Forces Operator, Canadian Special Operations Forces Command (CANSOFCOM)
Ottawa, Ontario, Canada