Describe the role you play professionally.
I am VP, Business Development, at Dynamic Funds, one of Canada's most recognized asset management firms. I lead a small team of sales professionals and together we proudly represent Dynamic Funds to a client base of financial advisors in the Oakville, Burlington and Guelph areas. It is a challenging and rewarding role!
What is the most challenging aspect of your job?
The most challenging aspect of my job is in finding the right work/life balance. In sales, as with anything in life, you get out what you put in. Quality work that exceeds expectations is important to me – I can easily get engulfed in my job - but being an engaged, loving and present mother is also a top priority. As a single parent, I think such a balance is simply a challenging aspect of life.
What is your biggest professional accomplishment?
My biggest professional accomplishment would have to be the promotion to my current role in June 2010… just before I turned 30 years of age! I was in awe of the trust and confidence my management team placed in me. That trust was the motivation I used to ensure my success (and to ensure they didn't change their mind). My role was petrifying and electrifying and offered unbelievable growth and development opportunities for me.  It's been working out pretty well for the company too.
Additional Information
What's on your bedside table right now?
Right now, on my bedside table, I've got:
A bright lamp; I do a lot of bedtime reading
An alarm clock; I wake up at 5:30 every morning, so this is imperative
Two Books:

I AM THAT, Talks with Sri Nisargadatta Maharaj
How to Stop Worrying and Start Living, by Dale Carnegie. A thoughtful gift from my mom
How do you manage stress (i.e. sports, exercise, and meditation)?
My best stress relief, and in fact, the best part of my day, is "Morning Huggies" with my eight year old daughter. Five minutes of undivided attention on her and the stress melts away!
What is the most significant thing you've learned at Ivey?
The most significant thing I've learnt at Ivey, so far, has to do with my potential. I've proven to myself that I am capable of accomplishing far more than I ever thought I could. By stretching myself and demanding more, I am evolving quickly and blowing through potential that I didn't know I had. I can take on challenges that life, work and school throws at me with grace and determination. Through the ups and downs of this journey, I've been unstoppable. This discovery will be with me throughout my entire life.
What's been the most surprising aspect of the Executive MBA journey to date?
The Executive MBA is structured to uncover strengths and to expose areas to improve as it relates to Leadership. In my journey, I've been surprised how I show up as a leader in working with my learning team, my individual work, how I honor commitments and how I execute under stressful circumstances. There are areas of Leadership where I thought I was strong, and now I see what work to do, and who to learn from to become a much stronger, more powerful leader.
EMBA '17
Ivey Business School
Caryn Maxwell-Smith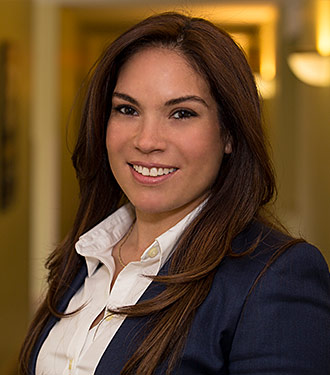 VP, Business Development, Dynamic Funds
Oakville, Ontario