Describe the role you play professionally.
I am a Pharmacovigilance Process Management Expert for Bayer Canada. Pharmacovigilance is the science and activities related to detecting, assessing, and preventing side effects with medications. In my role, I work with Bayer's internal and external partners to ensure patient safety initiatives are integrated into all aspects of our business from marketing events and social media campaigns, to patient support programs and market research. Our goal is to ensure patient safety is our first priority. 
What is the most challenging aspect of your job?
The pharmaceutical industry is highly regulated. Balancing the grey areas of the regulations particularly as they relate to changing technologies is, in my opinion, the most challenging but also the most interesting. Innovation has been the key to Bayer's success over the past 150 years. It is essential that, as a company, we encourage and embrace innovation while ensuring patient safety is always put first, and never compromised. The utilization and implementation of new technology requires critical thinking, detailed planning, and close monitoring to ensure we get our programs right the first time.
What is your biggest professional accomplishment?
Two years ago while working in Regulatory Affairs, I had the opportunity to take on an assignment abroad. The Australian drug regulations were changing and, as a result, Bayer processes needed to change. I was sent to Sydney to not only align the team on the new regulations and build new processes, but also to file a new drug application to the Australian Health Authority. There was tremendous pressure to ensure that the new processes were implemented successfully so that we would not experience a delay with filing the new drug application. Personally it also meant that I would be separated from my family and friends by thousands of kilometres and a 16-hour time difference.
By the end of my time in Australia I was so proud of how the team embraced changed, implemented the new processes flawlessly, and successfully filed (and later obtained approval for) a new drug that would benefit Australian patients. I was also proud of myself for taking the risk of tackling this new challenge head-on. This experience helped me develop both professionally and personally in a way I could never have imagined. 
Why did you decide to do an EMBA?
I love the work that I am doing but I felt that, to enhance my leadership capabilities, I needed to broaden my business acumen and specifically develop my strategic thinking and decision-making abilities. This program spoke directly to that. After sitting in on a class and seeing the engagement the case method brings, I knew this was exactly what I wanted to do.
What books are on your bedside table right now?
Originals: How Non-Conformists Move the World by Adam Grant and Sheryl Sandberg. I'm a big supporter of Sheryl Sandberg's work.
How do you manage stress (i.e. sports, exercise, meditation)?
Running is my greatest stress relief. There is nothing better for stress than running your absolute hardest and putting all of your energy into that moment. It also helps ensure I get a good night's sleep.
What is the most significant thing you've learned at Ivey?
Always bring data. This was said to me during my first week at Ivey and I can't tell you how important this has been for recent successes I have had at work. It has made the difference for getting budgets and projects approved that did not have success previously.
More generally, Ivey has pushed me to formulate decisions quickly, consider alternative perspectives, and challenge myself.
What's been the most surprising aspect of the Executive MBA journey to date?
I chose this program because of the strong collaboration that Ivey is well-known for; however, I was still surprised by how collaborative, intelligent, and dedicated all of my classmates are. The diverse professional backgrounds of my classmates has contributed to my understanding of various industries and companies. We support each other. I could not have asked for a better group to share this experience with.
Cassandra Smith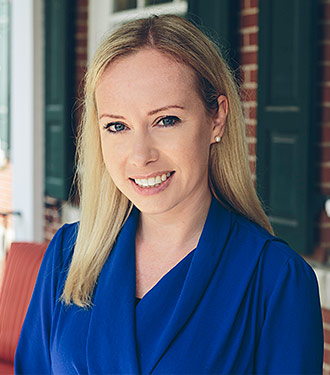 Pharmacovigilance Process Management Expert, Bayer Inc.
Toronto, Ontario