Describe the role you play professionally.
I lead a team of 30 marketers, technologists, and developers in conceptualizing, designing, and developing a world-class market intelligence solutions platform that helps companies make smarter and faster decisions in the face of ever-changing technologies. My role with Infiniti is three-fold: to define the product strategy; to oversee operations of product development and marketing activities; and to build high-performing cross-functional teams that innovate and execute in a highly collaborative environment.
What is the most challenging aspect of your job?
The speed at which my industry moves. The digital space and the technology that powers it has taken the world of marketing and product development to a whole new level, which is as exciting as it is challenging. In order to stay competitive, not only do I need to ensure that we are investing in the right technologies and platforms, but that we also develop efficient processes to onboard and educate team members on the use of these emerging technologies. 
What is your biggest professional accomplishment?
I have had the privilege of joining companies in the early stages of building cross-functional teams and enhancing their digital capabilities, at times from the ground up. One thing that I am most proud of and motivates me every day, is my ability to build high-performing teams by enhancing human potential and by leveraging the power of technology to increase and optimize our teams' and company's capabilities. When you effectively marry these two, amazing things can happen. In my current role at Infiniti, I have had the opportunity of restructuring our international teams based in Toronto, London (UK), and Bangalore (India), and consolidating global marketing and product strategy to the Toronto office while maintaining operations in existing hubs, all in the span of six months. Achieving this was a great experience as it brought a lot of momentum to Infiniti's overall operations and performance. 
Why did you decide to do an EMBA?
I have always been passionate about leading groups of individuals, and this is something that continues to motivate me as I progress on my career trajectory. Early in my career I found myself in leadership positions, leading teams and companies without any formal training in management and executive leadership, simply because I was able to deliver impactful results and had the determination, passion, and commitment to grow professionally. I felt that the EMBA program would equip me with the ideal skill set to continue my professional growth and, importantly, shape me into a well-rounded leader by improving personal confidence and further honing various soft skills and abilities. Today's society needs leaders that are not only good at driving bottom-line revenue, but also able to operate through lenses of diversity, inclusivity, and innovation. It takes a daring and yet humble leader to chart this type of path forward. When assessing the Ivey EMBA curriculum, it felt like I was going to learn more comprehensively about how to be a well-rounded Executive leader.
What is the most significant thing you've learned at Ivey?
It's hard to boil it down to one, as there are several significant lessons I've acquired during this program so far. However, I believe the most significant lesson is that I have significantly sharpened my executive "toolkit" by adding three key elements: critical-thinking – daring to ask the "so what" question even when the answer seems like the most logical one; being able to think on my feet and attempting to make the best decision with the least amount of available information and time; and above all, the most significant lesson I've learned is that businesses revolve around human interactions and relationships, and that an individual's actions will have an impact on the larger ecosystem.
What's been the most surprising aspect of the Executive MBA journey to date?
The most surprising aspect is how much you get to learn about yourself in such a short period of time. It's been an absolute self-discovery, self-realization, and self-challenging journey, the impact of which is far beyond one's self. The Ivey Executive MBA is shaping how I manage my teams, my personal life, and relationships. 
What books are on your bedside table right now?
There's a long list of books recommended by the Ivey EMBA Program that keep me busy and on my toes every day. Currently, I am enjoying reading Getting to Yes – Negotiating Agreement Without Giving In by Fisher and Ury.
How do you manage stress (i.e. sports, exercise, meditation)?
Time with family and my nieces Alyssia and Amelia are my go-to zen place. It helps me regain perspective and balances out the need to constantly keep pushing forward with the day-to-day demands with that of simply being present and highly connected.
Industry: Marketing/Communication
Denisa Balla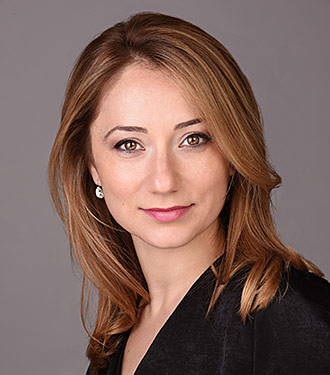 Head of Digital Products, Infiniti Research
Toronto, Ontario