Describe the role you play professionally.
As part of the Operations Team, I continuously improve plant operations and flow by applying Agile and Lean techniques to create systems and processes. These systems and processes are expected to provide visibility of project progress from the plant floor up to executive management, provide direction to the manufacturing team, and engender a culture of Lean thinking in day-to-day operations.
What is the most challenging aspect of your job?
Leading and coaching scalable Lean initiatives in a tenured company that is looking at strong growth over the next few years. In essence, assisting the Change Management team in transforming the culture of the company in the direction of this growth.
What is your biggest professional accomplishment?
Aligning a third-party service provider and the Design (CADD) department to use automated drawing and model templates that were unchanged for more than eight years. This provided unrealized savings of approximately $35,000 per year. The challenge was proving how these tools worked such that experienced people in the department, who believed that this option was not possible, accepted them as the new standard. Ultimately, the biggest benefits were a reduction in document errors and an increase in department morale.
Why did you decide to do an EMBA?
After spending over 12 years in engineering, I discovered a passion for consulting. To reinforce my technical strengths with a business skillset, I chose to do an EMBA to help in this career transition.
What is the most significant thing you've learned at Ivey?
Being able to make good quality decisions on limited available information. Through the use of cases on companies many people are familiar with, I am developing the skills of making timely, useful decisions based on the best available data by using effective tools and techniques discussed in class.
What's been the most surprising aspect of the Executive MBA journey to date?
The culture and quality of the class and professors. There is such a wide swath of experience and talent in the class that I am constantly learning new things based on real-life examples from industries I would only read about. The professors also bring an engaging mix of approachability, passion, and knowledge to their courses, which I find is uncommon in higher education.
What books are on your bedside table right now?
Extreme Ownership by Jocko Willink and Leif Babin. Learning about leadership has always been a passion of mine. And nothing tests and proves leadership like the intensity of making decisions in an actual war zone. Written by two ex-SEALs, this book crystalizes the importance of owning your leadership wins and losses by using methods developed by the authors.
Dune by Frank Herbert. Because I read for fun too!
How do you manage stress (i.e. sports, exercise, meditation)?
Spending time with family and friends. Catching up on the myriad of shows saved on Netflix. Eating healthy, but also trying out new delicious restaurants!
Doug Pereira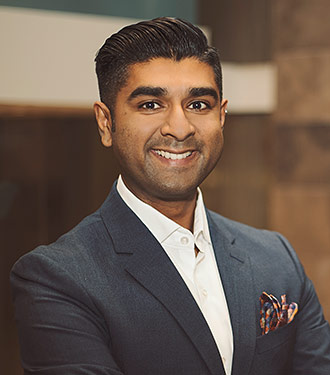 Master Scheduler, Thermogenics Inc.
Mississauga, Ontario