Describe the role you play professionally
The Coalition of Nunavut District Education Authorities (CNDEA) strives to make the Nunavut education system better by developing and supporting local District Education Authorities (DEAs) so that they can guide how schools reflect the community's culture and principles. There are currently 43 schools and 26 DEAs in Nunavut. I am the Executive Director who runs all aspects of the-day to-day operations.
What is the most challenging aspect of your job?
I've had to guide a couple organizations through changes that aimed to improve the lives and living conditions of the individuals that they serve and to innovate policy approaches guiding government investments and relations. This process can be extremely challenging as it involves working with people who see things differently.
What is your biggest professional accomplishment?
I have a few. The first was developing a model that guided the Government of Nunavut's first-ever pre-budget consultation model that looked after logistics as well as developing a scoring system that guided the collection of data and sort them into a list of understandable priorities. The second was leading an Inuit organization to develop appropriate policy that helped further define Inuit rights through the Nunavut Land Claims Agreement. It required developing the right relationships to remind government that appropriate implementation measures needed to be prioritized and developed.
Why did you decide to do an EMBA?
It has been a personal aspiration to get my MBA, but my other motive is to develop myself so that I can be a resource to the continued development of Nunavut and its people.
What is the most significant thing you've learned at IVEY?
I have been inspired and star-struck by professors, classmates, and the information delivered through all the courses. As an Indigenous (Inuit) person, I think of the socio-economic challenges of where I live. I'd like to develop business solutions and frame policies that apply the concepts of what I have learned, with the goal of improving the quality of life in Nunavut.
What's been the most surprising aspect of the Executive MBA journey to date?
The quality of the professors and the support that I've received from the program. The cases have been interesting and challenging and helped me develop applicable tools. It's also important to be able to lead organizations and people through successful transition and change.
What books are on your bedside table right now?
The Intelligent Investor by Benjamin Graham. Having just been appointed to the Nunavut Trust, I find this book helps me sort through the capital investments.
How do you manage stress (IE Sports, Exercise, meditation)
I take the time to exercise by going for walks as well as going out on the land to hunt or fish. It really helps me reset and defuse from a hectic schedule.
EMBA '20
Ivey Business School
James T. Arreak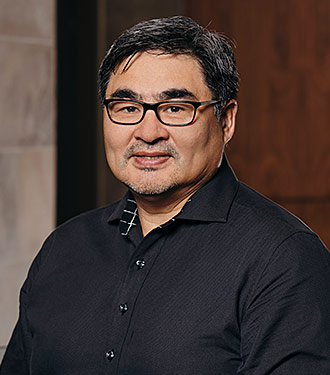 Executive Director, Coalition of Nunavut District Education Authorities
Nunavut, Canada