City you live/work in:
I live in Vancouver and I work in both Vancouver and Toronto.
Describe the role you play professionally:
I lead a team of eight staff and a client portfolio of 13–18 clients. My portfolio has a mix of financial, quick service restaurant, and retail clients. My team and I ensure we are meeting the client's business objectives set with CDM as we are client facing and deal with the day-to-day operations of the client contract. My team focuses on daily operations while I focus on business growth strategies, whether that is growing business with current clients or seeking new ones. 
What is the most challenging aspect of your job?
The most challenging aspect of my job is understanding the technology we use. I had limited knowledge of technology when I started my journey at CDM. I learned the basics of technical terminology and functions as quickly as I could; however, I still find myself striving to keep up since technology changes so frequently.
What is your biggest professional accomplishment?
In my career thus far, I have had multiple opportunities where I've displayed my skills and abilities. I have had the opportunity to work on multinational projects with global firms. However, in my opinion, I have not yet had that moment which I can claim as a big accomplishment. I am still working towards that—perhaps after I complete my EMBA!
Why did you decide to do an EMBA?
I was at a stage in my career where I was ready to elevate myself to a higher level. I wanted to begin working towards executive-level positions. Despite all the experience I had, I knew I needed to further refine my skills to qualify for C-suite roles. Once I began my research, I noticed most executives had an Ivey EMBA or another comparable degree. Hence, I decided to enrol myself.
What is the most significant thing you've learned at Ivey?
Although I've enjoyed learning all the different elements of commerce at Ivey, I've really appreciated the exposure I've gotten in the classes on leading and strategy. In my opinion, no matter the discipline one works in, leading and strategy are two areas that are universally applicable.
What's been the most surprising aspect of the Executive MBA journey to date?
For me, the most surprising aspect of the EMBA journey to date has been my increased ability to time manage. Previously, I felt I was busy and capped out for time and resources. Then adding on an EMBA to my schedule really taught me to become more focused and manage my time better, which I thought I was already doing before but surprisingly, I'm now doing it better!
What books are on your bedside table right now?
Besides the mandatory reading for my EMBA, I am currently reading Dare to Leadby Brené Brown.
How do you manage stress (i.e. sports, exercise, meditation etc)?
It will sound cliché, but I am very disciplined with my mental and physical health. To manage stress and attain high energy levels, I work out at least four times a week, drink four litres of water daily, eat clean, and sleep at least seven hours a night. Since I cannot control the external elements of my life, I try my best to practise a healthy lifestyle; this allows me to be more focused and energetic and allows for mental clarity to work through stressful situations. 
EMBA '20
Ivey Business School
Jasleen Bhinder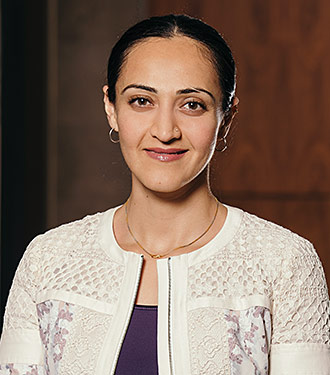 Senior Director, Client Services, Cineplex Digital Media (CDM)
Vancouver, British Columbia, Canada