Describe the role you play professionally.
Responsible for overseeing brand development, customer insights, marketing performance and analytics, social media, media strategy and buying, agency management, strategic development and all advertising and creative as well as sponsorship activities.
I was the first marketing hire prior to the brand being developed and built the team and the brand from a blank slate and based on detailed research of customer insights and needs. I lead a team of 30 talented marketers and an inter-agency network of three top tier global agencies for creative and media.
What is the most challenging aspect of your job?
Managing a dynamic and young team with a start-up mindset within a traditional 150 year-old insurance company.
What is your biggest professional accomplishment?
The launch of the Sonnet brand — the single biggest net new brand launch in Canada in decades. I spent two years on the launch plan and brand development before it was launched and it is truly my baby.
Why did you decide to do an EMBA?
I always want to challenge myself and after almost two decades in mostly marketing roles, I felt it was a good time to add another dimension to my skillset and round out my knowledge base. I also thought it was good inspiration for my two boys who are 10 and 12 to demonstrate personal development and commitment.
What books are on your bedside table right now?
Book of Longing by Leonard Cohen, Presence by Amy Cuddy, and my own manuscript of what I hope to become my first novel.
I tend not to read business books per se as I like to escape a bit but Presence by Amy Cuddy is a great story of a personal journey through adversity.
How do you manage stress (i.e. sports, exercise, meditation)?
I run — a lot — I try to cycle or run to work as much as possible as it's a great way to start and end the day.
What is the most significant thing you've learned at Ivey?
I have learned so much in my first term alone but I would have to say the power of the network is much more impactful than I anticipated — both within my cohort but also the broader alumni network.
What's been the most surprising aspect of the Executive MBA journey to date?
How physically demanding it is. Balancing work, family, and studies has required me to up my physical fitness to keep my mind sharp. I knew it would be mentally challenging but truly it has shown me the connection of healthy mind and healthy body.
John Rocco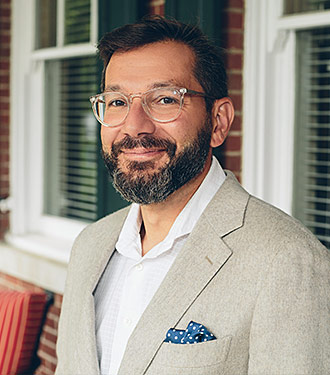 Vice President of Marketing, Sonnet Insurance - Canada's first fully online insurance company
Toronto, Ontario