Describe the role you play professionally.
As the Senior Technology Advisor – Aquatic Closure for Suncor Energy Inc., I develop, pilot, and deploy technology and innovative solutions to improve environmental performance and accelerate the reclamation and closure of disturbed lands. I collaborate with researchers, industry, and regulators to bring forward new technology and innovative ideas and represent Suncor at Canada's Oil Sands Innovation Alliance (COSIA), an alliance of oil sands producers collaborating on research and innovation in the four areas of land, tailings, greenhouse gases, and water.
What is the most challenging aspect of your job?
Moving a reclamation and closure technology through the development, pilot, and deployment stages takes several years. Thus, one of the most challenging aspects of my job is time: in some cases, it will take 5-10 years before enough data can be gathered to make an informed decision about the technology.
What is your biggest professional accomplishment?
In 2016, I was awarded a Presidents Operational Excellence Award for elevating Suncor to new levels of success in the area of Environment and Sustainability. In a company of over 10,000 employees, I was very proud to have had the small team I lead recognized across the organization.
Why did you decide to do an EMBA?
The Executive MBA was the next step in my personal development plan to accelerate my learning and transition into leadership.  By enrolling in the Executive MBA I hoped to deepen my understanding of business strategy to complement my strong technical background, be better equipped to evaluate how the decisions I make impact the larger organization, and improve my ability to confidently and effectively make decisions with limited or incomplete information.
What is the most significant thing you've learned at Ivey?
My roles have always been very busy and overall, I have always had good time management. I see a significant difference in my discipline to get work done and prioritize. I have had no choice but to take my time management skills to a new level in order to find the time to excel in my role, maximize my learning (and I have learned a lot), and find time for family.
What's been the most surprising aspect of the Executive MBA journey to date?
Hands down it has been the people. I am still amazed at how quickly and deeply I have connected with so many amazing individuals. There is no doubt in my mind I have made life-long friends and that a phone call to anyone in class ten years from now, for whatever reason, would be answered with a smile.
What books are on your bedside table right now?
Besides Ivey cases, Principles by Ray Dalio (founder of investment firm Bridgewater Associates).
How do you manage stress (i.e. sports, exercise, meditation)?
Mostly by getting lost in a movie or tv show, on the couch with my beautiful wife and our puppy.
Joshua Martin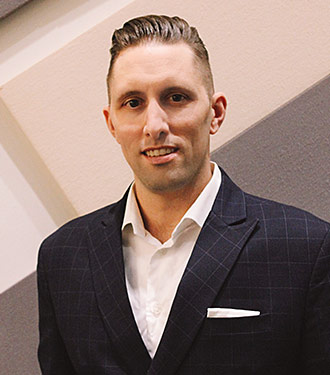 Senior Technology Advisor, Suncor Energy Inc.
Calgary, Alberta