Describe the role you play professionally.
I am principally responsible for planning and executing on all capital investments and operational improvements. In addition, I lead our organization's effort to develop our global platform for sourcing relationships and market development opportunities.
What is the most challenging aspect of your job?
Planning and then executing long-term development in a constantly evolving business and political climate internationally, including interpreting and forecasting changes to trade deals and regulatory requirements.
What is your biggest professional accomplishment?
Over the course of my career I have been a part of building many dynamic teams, most of which have created much greater value than expected for our organization. The by-product is the development of future industry leaders. Many have gone on to make a real contribution in their careers.
Why did you decide to do an EMBA?
First of all it has been a lifelong goal. Second, I believe leaders should commit to doing everything they can to be lifelong students. Never stop learning! If you do, you're no longer growing as a leader.
What books are on your bedside table right now?
The Daily Stoic, by Ryan Holiday, How to Have a Great Day, by Caroline Webb, and a lot of Ivey business cases right now!
How do you manage stress (i.e. sports, exercise, and meditation)?
I see stress management as performance management. I need a steady diet of exercise (primarily Crossfit), meditation, and finding deliberate space in my week for new ideas to emerge. 
What is the most significant thing you've learned at Ivey?
The benefits of embracing your weaknesses and surrounding yourself with others to help. We all know that asking for help is difficult for most in our daily lives. Learning to leverage the brilliance in others has taken my learning, and I believe my leadership ability, to the next level.
What's been the most surprising aspect of the Executive MBA journey to date?
I'm genuinely surprised at the quantity of thought-provoking business cases and debates in class accompanied by real analytical tools to support execution. This in turn has allowed key learning to be immediately implemented in my career.
Justin Robinson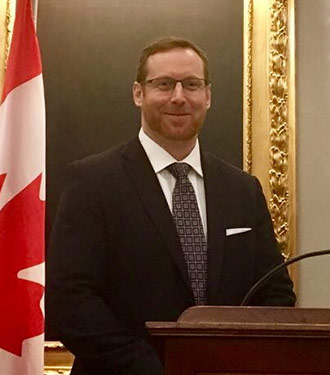 Senior Director, Global Sourcing and Corporate Continuous Improvement, Pinty's Delicious Foods
Barrie, Ontario