Describe the role you play professionally:
I work closely with executives and leaders across the company to ensure excellence and customer success in the delivery of services, report and analyze operational performance, and contribute to strategic growth and evolution.
What is the most challenging aspect of your job?
I work for a fast-growing company in a fast-moving industry. It's often difficult to navigate changing customer needs while managing strategic changes internally. I love the challenge and see this as a real opportunity to grow.
What is your biggest professional accomplishment?
In a previous role, I implemented a departmental information technology program by building roles and hiring staff, developing processes, procedures, and governance, and reporting to partners and key stakeholders. Soon afterwards, the program was adopted by other departments and became a corporate standard. This was a great opportunity for me to put all I had learned over my years of experience into practise, but I still don't count it as my best accomplishment. 
The professional accomplishment I'm most proud of is making the decision to take my career into my own hands by choosing to leave my comfort zone and take a job in an industry and area I'm passionate about. This move has allowed me to grow while doing what I love – and I look forward to heading off to work every day, too!
Why did you decide to do an EMBA?
My background is in information technology and I've been privileged to have access to a ton of formal and informal leadership mentoring and training over my career. But I felt I was lacking in areas of business management like marketing and finance. With the EMBA, I will be able to expand my skillsets and continue my leadership development.
What is the most significant thing you've learned at Ivey?
I can't believe I'm about to say this, but "trust the process" has become such a true statement for me. There's so much to learn and it can seem overwhelming at times, but I've walked away from each class with practical knowledge that I can execute immediately. Working through the program and learning how to tie all this new knowledge together is helping me to be better at what I do.
What's been the most surprising aspect of the Executive MBA journey to date?
I'm a self-described extroverted introvert. I didn't expect to make so many personal connections and get so much support from my classmates and the entire Ivey network.  The openness and genuine willingness to help is contagious and it's comforting to know that I'm not alone on this journey. I've made connections here that I expect to be lasting.
What books are on your bedside table right now?
Becoming by Michelle Obama. As a self-accomplished lawyer and university administrator, the first African-American First Lady of the U.S., a wife, and a mother, she has established herself as an advocate for women and girls around the world. I find her stories about what shaped her growing up and the challenges of keeping it all together now fascinating and inspiring.
How do you manage stress (i.e. sports, exercise, meditation etc.)?
I find my way to the gym first thing in the morning about three times a week. I have my best energy in the morning and spending time at the gym helps me unwind. I also enjoy spending time listening to music, doing puzzles, and watching movies with my husband and kids. 
Industry: Information Technology
EMBA '20
Ivey Business School
Katherine Isaac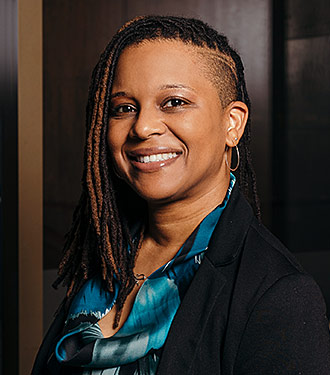 Vice President, Service Delivery, Herjavec Group
Toronto, Ontario, Canada