Describe the role you play professionally.
I manage institutional client relationships with large asset owner and asset manager clients. I'm responsible for growing those relationships at an executive level. I act as the voice of the client internally and ensure organizational alignment with client needs. I have P&L responsibility for my client portfolio.
What is the most challenging aspect of your job?
Keeping up with evolving client needs and identifying solutions to meet those needs. These are also the most interesting parts, as in doing so, I get the opportunity to learn about my clients' changing business strategies and how they are future-proofing their businesses. Technology is transforming the investment management industry (where I've spent my career), so keeping up with how our business is evolving to support our investment manager clients through that transformation is both challenging and rewarding.
What is your biggest professional accomplishment?
Launching a new mutual fund company about four years into my career. It taught me the mutual fund business end-to-end, gave me my first global business experience, and resulted in a promotion. It was my first opportunity to operate at a senior level, and was the first of a few businesses I had the privilege of helping bring to market during my career.
Why did you decide to do an EMBA?
After university, I put off doing significant formal education for most of my career as my roles over the years were intense, demanding, and great learning experiences. I wanted to deliver my best, and at the same time get the most I could out of those experiences, so I applied myself fully to them. Working in financial services, a credential like an MBA is valued in senior level positions that demand a strategic and holistic business perspective. I finally found a window in my personal and professional life where I could devote significant time to furthering my education and thought an EMBA was the best fit for me. I also believe continual learning is key to staying relevant in my field, and I feel the EMBA will give me the credentials I need in a competitive and quickly changing industry.
What is the most significant thing you've learned at Ivey?
Being more pressed for time than ever while doing this EMBA, I've learned I can actually get more done in a day than I ever thought I could. It's forced me to be more disciplined about what I spend my time on and consciously prioritize things that are important to me.
What's been the most surprising aspect of the Executive MBA journey to date?
Having completed just over half the program so far, I'm surprised that by reflecting on my career experiences with a fresh lens — whether that be through operational, financial, leadership, or marketing concepts — I've learned something new about those experiences. I'm also surprised at how much I'm enjoying each of the classes, partly because the professors really make an effort to engage students. I've learned something valuable from each of them.
What books are on your bedside table right now?
Thinking, Fast and Slow by Daniel Kahneman and SCRUM The Art of Doing Twice the Work in Half the Time by Jeff Sutherland.
How do you manage stress (i.e. sports, exercise, meditation)? Playing with my 4-year-old daughter, family time, and taking fitness classes.
Katherine Mitchell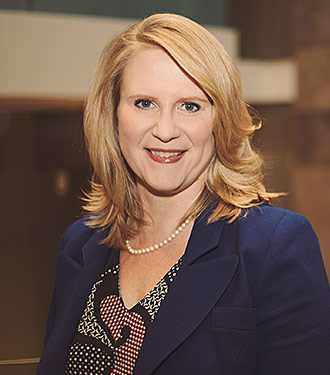 Vice President, Relationship Management, State Street Trust Company Canada
Toronto, Ontario