Describe the role you play professionally:
I serve as the deputy to the General Counsel and provide legal, compliance, and regulatory advice to the company and its subsidiaries (the chief subsidiary being the sole electric utility on the island of Bermuda).
What is the most challenging aspect of your job?
I am constantly challenged to prioritize and adapt to better serve my internal clients in a timely manner. It's an issue I believe the Operations course will help me conquer.
What is your biggest professional accomplishment?
My biggest professional accomplishment was when I learned to cope with uncertainty. I like to know what is coming next, but I have gravitated toward industries that are being transformed. Over time, I have learned coping strategies. I am now better equipped, in part due to the program, to handle anything that comes.
Why did you decide to do an EMBA?
When I finished my undergraduate degree, I knew I wanted to qualify as a lawyer but didn't necessarily want to retire as one. While I am still practising, what I learn in the MBA will make me a stronger in-house counsel. In the long term, having an MBA will prepare me for whatever comes next.
What is the most significant thing you've learned at Ivey?
I am learning what great leadership looks like. I have gained greater insight into, and am better able to evaluate, various leaders so that I can develop a framework for the type of leader I wish to become.
What's been the most surprising aspect of the Executive MBA journey to date?
The most surprising thing is that I have been challenged to figure out who I am today and who I wish to be in the future, both as a leader and as a person. The journey is stressful and throws up all sorts of challenges. I'm learning to balance trade offs and to figure out what is truly important to me. I am now much more aware of what frustrates me and what I don't sweat. I also know better how I work best.
What books are on your bedside table right now?
The Goal: A Process of Ongoing Improvement (required for the Operations course) and The Assertiveness Workbook: How to Express Your Ideas and Stand Up for Yourself at Work and in Relationships.
How do you manage stress (i.e. sports, exercise, meditation etc.)?
I manage stress by running. During the program, it has been hard to remain consistent, but I am also now acutely aware of how grumpy I become if I miss even one of the three runs I aim for each week.
EMBA '20
Ivey Business School
Lakilah Spencer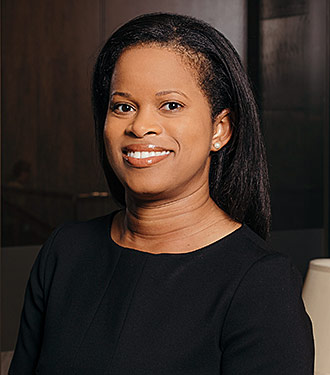 Assistant General Counsel, Ascendant Group Limited
Pembroke, Bermuda, Bermuda