Describe the role you play professionally.
I work in the field of Venture Philanthropy, finding effective solutions to social problems and leveraging private sector pro-bono resources to find ways to help them scale for massive social impact. Current pro-bono partners include BCG, EY, Perennial Design, Hill+Knowlton, Offord Group, and McCarthy Tetrault. I support a portfolio of charities that have proven to be high impact, scalable, and ambitious in their goals to grow in Canada and/or around the world and help them manage the change. The job allows me to work with the C-Suite, management, and frontline staff and alongside our private sector leaders to creatively and collaboratively problem solve key issues that inhibit growth and sustainability.
What is the most challenging aspect of your job?
Every organization has a unique culture and way of operating within the chronically resource-constrained environment of the non-profit sector. Learning how to solve challenges in a way that is suitable and complementary to the working culture, while also being fresh and innovative, is a difficult balance to strike. Finding and mobilizing the enormous amount of capital in Canada for solutions that have demonstrably high Social ROI is another challenge.
What is your biggest professional accomplishment?
Bringing on new partners is always something to celebrate in the Venture Philanthropy space. After completing a rigorous due diligence on dozens of organizations, having one successfully complete the process is a great accomplishment. In a similar way, a recent accomplishment was helping to find and partner with Perennial Design, which now supports the portfolio with brand clarification and marketing efforts. A lot of upstream effort for even more downstream social impact.
Additional Information
What books are on your bedside table right now?
Red Notice by Bill Browder and Lonely Planet's guide to Latin America Spanish.
How do you manage stress (i.e. sports, exercise, meditation)?
Saturday morning cuddles with my little ones (2 and 4), a yoga app (yes, I can always find 15 minutes!), and walking and talking across the city with my incredible husband, Russ. 
What is the most significant thing you've learned at Ivey?
How important people are. No matter how much you think you might know, you can't know everything.  This program has taught me that if you treat people well, your organization can be so much more than if you try to go it alone. 
What's been the most surprising aspect of the Executive MBA journey to date?
How much we laugh in class! The cases have been so relevant and our professors incredibly effective at facilitating interesting and motivating discussions. The dialogue is fascinating and so applicable, no matter your sector, because of the diverse class we have. You really do apply weekend content to Monday's workday.
EMBA '17
Ivey Business School
Louise Kent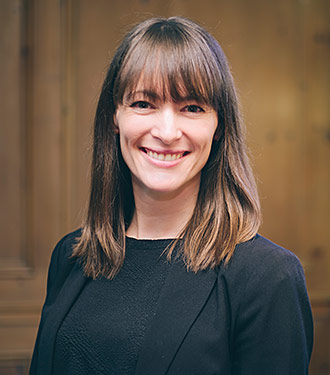 Portfolio Director, LEAP: The Centre for Social Impact
Toronto, Ontario