Describe the role you play professionally:
I manage all facets of our private family foundation; this includes handling all inbound requests for support, as well as tracking, measuring, and evaluating all grants previously made. We support initiatives in the areas of health care, poverty reduction, and environmental sustainability.
What is the most challenging aspect of your job?
The most challenging aspect of my job is striking the right balance between heart and head. We are presented with the chance to support an immense amount of charitable causes—all of them good and worthy in their own right. Often, they are emotionally compelling and heart-wrenching. However, this desire to be compassionate must be balanced with the need to remain strategic in pursuing our goals and sticking to our theory of change. Having to say "no" to worthy causes is never fun—but it is clearly balanced out when you have the chance to say "yes"!
What is your biggest professional accomplishment?
I have to say my biggest professional accomplishment so far has been steering our foundation through a challenging transition process. Identifying which issues we would like to focus on, and then articulating a theory of change as to how we can make the biggest impact in that space was a challenging and illuminating process. However, now that we are seeing our impacts in real time, I am immensely proud of how far we have come.
Why did you decide to do an EMBA?
I decided to do an EMBA because I believe the gap between non-profit and for-profit businesses is closing all the time. I believe that business can be a force for good, and that some of the most effective charities operating today are finding new and innovative ways to use business skills and principles to increase their impact. I want to be able to play a role in bringing these two communities together, and the EMBA will put me on the fast track to doing so.
What is the most significant thing you've learned at Ivey?
I have been impressed by how quickly and directly my experiences in the non-profit space connect with the business issues we discuss. With every case study we examine, I always find parallels between them and the world in which I work. This has further reinforced my belief that the non-profit and the for-profit world can work more closely together than most people think.
What's been the most surprising aspect of the Executive MBA journey to date?
I have been surprised by how much the other students in my cohort are motivated by a desire to have a positive effect on the sustainability of their businesses.
What books are on your bedside table right now?
The Testaments by Margaret Atwood; How Can I Help? A Week in My Life as a Psychiatrist by David Goldbloom and Pier Bryden; and A Confederacy of Dunces by John Kennedy Toole.
How do you manage stress (i.e. sports, exercise, meditation etc)?
I have always been a hyper-planner, but that has gone into overdrive now. I find myself scheduling "family time" and weekends away with our children weeks in advance. Knowing that I have that important time coming up provides a lot of comfort when I am sacrificing time away from my family to meet the demands of the program.
Industry: Charities/Not-for-Profit
EMBA '20
Ivey Business School
Luke Gilgan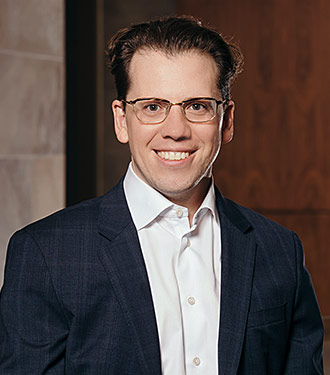 Manager, Peter Gilgan Foundation
Toronto, Ontario, Canada