Title: Business Partner, Leading From the Front
Describe the role you play professionally.
I currently work at National Defence Headquarters (NDHQ) In Ottawa where my primary function is to facilitate the interactions and relationships among senior military and civilian stakeholders when it comes to special operations. NDHQ is the "corporate HQ" for the military and I am responsible for being the representative for a unique "business unit" – namely the Canadian Special Operations Command (CANSOFCOM). CANSOFCOM HQ is physically separated from NDHQ so I am the hand to shake or the dog to kick when my boss isn't around. I ensure that my commander's intent (CEO's vision) is clearly understood by the military chain of command, lawyers and military and civilian policy personnel so that sound and timely decisions are made to enable special operations to occur in support of the government's wishes. Essentially I ensure mutual understanding in a highly dynamic and complex operating environment.
What is the most challenging aspect of your job?
Being smart enough to know that I don't know as much as I want to about so many things. Officers are typically generalists and while that is necessary I prefer some level of expertise. I have to be a "one-day expert" on a myriad of topics. That said it has proven extremely useful throughout the MBA due to the scope of the program.
What is your biggest professional accomplishment?
Re-energizing and modernizing the recruiting, selection and training methods for a unit within Canadian Special Operations Command. The "old" way certainly wasn't broken but it wasn't optimized either. I was given the privilege of remaining in a certain portfolio for a sufficient length of time to build consensus and support among the team for a holistic upgrading of the paradigm. As with any organization and particularly a military one, even special forces which generally pride themselves on being change agents, change doesn't always come easily or willingly. All the leadership and motivation tools were brought to bear to see this modernization come to fruition. It took a lot of patience and an intense mission focus.  I would have benefited from having done the Leading Change course. Without boring you with details the results were a far more enabled and empowered instructor cadre, a fundamentally positive change in the training culture and ultimately students that far surpassed any previous cohort upon graduation in terms of their skills, abilities and attitudes. The fighting elements that received them from the training system were overwhelmingly impressed. This new breed of special operator stands shoulder to shoulder with that of any other nation's best warriors although you're not likely to see any Hollywood movies about their awesomeness anytime soon. They remain quiet professionals.
What's on your bedside table right now?
Crucial Conversations by Patterson, Grenny et al, Guns, Germs and Steel by Diamond, How To Win Friends and Influence People by Carnegie, Split Second Persuasion by Dutton, The Prophet by Gibran, It's Your Ship by Abrashoff, Thinking Fast, Thinking Slow by Kahneman, Analyzing Intelligence ed by George and Bruce, several MacLean's magazine, a Gracie Jiu-Jitsu magazine, a pink highlighter, Surefire ear plugs and a scotch glass (empty).
How do you manage stress (i.e. sports, exercise, meditation)?
I manage stress through a variety of tools. Good tactics in war and in business demand that leaders manage their stress. Calmness is contagious. Calm is smooth and smooth is fast. I try to do some form of physical training at least 3-4 times a week even during residence weeks or the modules in Toronto. Whether that is a run or some time on the mats doing Brazilian Jiu-Jitsu - nothing like the threat of unconsciousness or a broken arm to keep your mind focused on "what's important now". Look for the humour in situations – if you can laugh it can't be that bad: "If life seems jolly rotten; There's something you've forgotten; And that's to laugh and smile and dance and sing"– Monty Python. I will also force myself to take the time to hang out with my family even if there's a crushing MBA workload. There is a paradox in relentlessly pursuing excellence yet also knowing that better is often the enemy of good enough. Lastly I like to spend some "meditative" time in our outdoor hot tub while musing about the Scotch industry.
What is the most significant thing you've learned at Ivey?
While I know less than I want to; I know more than I thought I did. Now that I have a grasp of the lexicon and concepts of business I can integrate that with my military experience to be of significant value to the private sector. The program has set me up for success.
What's been the most surprising aspect of the Executive MBA journey to date?
I have a great team backing me as I transition back to civilian life. Obviously the staff and professors are superb as is the alumni network. But my classmates! They are extraordinary and I love them dearly. I never thought it possible but I feel the same fealty towards my MBA cohort as I do for many of the military groups I've served with and I've had the honour of serving with some very inspiring people. The class as a group and as individuals have inspired me with their smarts and their hearts – to paraphrase Jack Nicholson as Melvill Udall in As Good As It Gets – they "make me want to be a better man". The camaraderie is quite powerful and I cherish it and look forward to many life-long friendships coming out of this program.
EMBA '16
Ivey Business School
Major Paul Carroll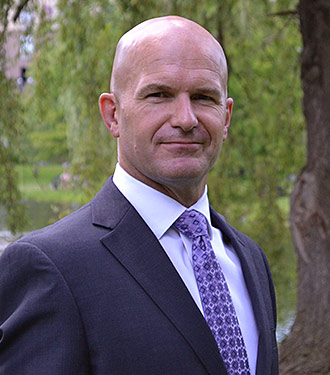 Ottawa, Ontario
Perth, Ontario