Describe the role you play professionally:
I am currently the program manager of a $500 million investment in Metro's Ontario logistics and distribution network. My role is to design the new automated distribution centres; determine the new standardized processes, systems, and roles, as well as help lead the changes; and prepare our current workforce for the new technology.
What is the most challenging aspect of your job?
The most challenging aspect for me has been understanding how to protect service levels at our stores and keep our customers at the centre of our business while automating and standardizing to modernize our distribution network.
What is your biggest professional accomplishment?
This type of project is very hard to get off the ground. There are challenges with finding the right automation supplier, with predicting a decent return on investment, and with coordinating multiple internal and external stakeholders. My greatest professional accomplishment to date has been getting those internal and external stakeholders aligned on a vision. Communication is so important with a project of this magnitude, and I love when I hear an internal stakeholder share our vision with someone else. It shows that we are all in this together.
Why did you decide to do an EMBA?
l have always wanted to learn more about business. As an engineer, I have a very technical role and I believe a better understanding of business will help me to lead my team more effectively. I chose an EMBA because I have a young family and my time is precious. With an Ivey EMBA, I am getting the most from my time away from my family.
What is the most significant thing you've learned at Ivey?
I have learned so much at Ivey from my professors and my peers, and I have learned a lot about myself. I have learned about parts of business I had no idea of before, about industries that I had never thought of, and about the kind of leader I am and want to be. The most significant thing that I learned was during our IPADE trip. I learned that I can have an impact and that the responsibilities that I previously took lightly should be taken more seriously. There is a lot I can do as a leader, as an individual, and as a key member of an organization to influence positive change.
What's been the most surprising aspect of the Executive MBA journey to date?
The most surprising aspect of the Executive MBA journey has certainly been the friendships I've made within my class. We are a community; we all care about each other and each other's families. If one of us needs something, we all pitch in. If one of us has something to share (anything from an interesting article or experience), we share openly. I get so much support and encouragement from my classmates.
What books are on your bedside table right now?
At my bedside right now are my textbooks for Ivey and Freakonomics by Steven Levitt and Stephen J. Dubner. I was inspired to re-read Freakonomics by the discussion in class last week. Classmates and professors are always recommending additional readings on the interesting subjects we discuss. I know I will finish school with a list a mile long of what I'd like to read next. I'm also watching a series on Netflix called Rottenthat is in its second season. It's a docuseries that uncovers hidden or little-known corruption in our food supply chain.
How do you manage stress (i.e. sports, exercise, meditation, etc)?
I have spoken with many of my classmates about the best way to manage stress and I think we each have something that works for us. I organize my thoughts in lists and try to always do as much work as I can as early as I can so that I don't get stressed out when things are due. I think about these lists while I'm exercising or driving and prioritize them based on due date or dependencies on others. When I really feel stressed out, I turn off my computer and get outside with my three boys. I find walking away from a problem usually helps me to come back to it with fresh eyes and a new perspective.          
EMBA '20
Ivey Business School
Melissa Pryszlak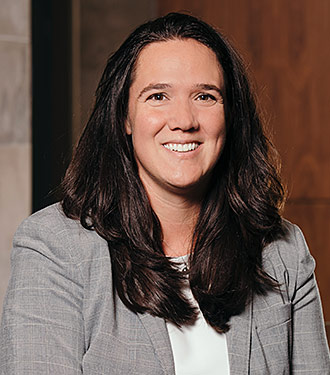 Director, Logistics and Engineering, Metro Inc.
Toronto, Ontario, Canada