Describe the role you play professionally.
I provide advice, counsel, and value-added insights into RBC enterprise business performance to senior management including the SVP finance and CFO of RBC.
What is the most challenging aspect of your job?
My role straddles both strategy and forward thinking alongside financial planning and it can be challenging to ensure that my team and my peers understand and keep the big picture in mind while also executing tactically.
Often times there is a tendency and a temptation to over-analyse. Part of my role is to also manage the balance between getting enough versus too much detail.
What is your biggest professional accomplishment?
I have had the privilege to work alongside and learn from incredible leaders. Working with them has made me continue to challenge the status quo and grow both technically as a professional and in my personal life. Given that, one of my personal and professional accomplishments is being awarded the GE Canada FMP Manager of the year for developing leadership talent at GE. I have deeply enjoyed both the opportunity to lead and be led by young talent that will grow to lead large companies.
Why did you decide to do an EMBA?
I love to continually learn, improve, and challenge myself. An EMBA supports my personal development plan. As a lifelong learner, I appreciate the flexible aspects of the program that allow me to benefit from both on the job and in-class learning.
What is the most significant thing you've learned at Ivey?
A benefit of being part of a class that has a diverse mix of experiences, both from a functional and industry perspective, is always learning each time I step into the classroom.
We have the opportunity to debate and discuss ideas beyond the theoretical and analyze real world implications. Most importantly, I have been able to take learnings from the classroom and make a difference in my work place.
What's been the most surprising aspect of the Executive MBA journey to date?
I am surprised at how quickly our diverse cohort, with an eclectic mix of talent and experience, has gelled into a cohesive unit. There are individuals I can count on to be sounding boards for both school and work concerns. I can see why previous years often talk about the power of their alumni base.
I have also been surprised at how individuals that are already stretched in demanding careers have been able to balance both a full-time workload as well as class work. The EMBA makes you more efficient and allows you to be laser focused on what is important.
What books are on your bedside table right now?
Give and Take by Adam Grant
The Innovators by Walter Isaacson
How do you manage stress (i.e. sports, exercise, meditation)?
I am an ardent Manchester United fan and often unwind by watching the Red Devils. Though their recent performance has added more stress to my life!
Mohan Sitham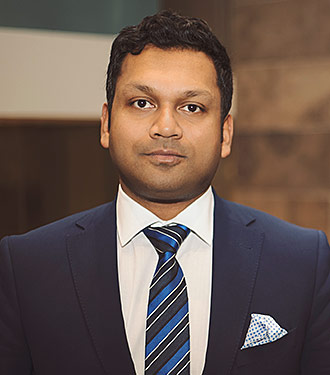 Senior Director, Performance Management, Royal Bank of Canada
Toronto, Ontario