Describe the role you play professionally. 
As a neurosurgeon and spine surgeon I operate my medical practice. As the Chairman of KONKUSSION I'm fortunate to be on the cutting edge of innovations in concussion education, clinical management, and research and development.
What is the most challenging aspect of your job?
Seeing someone that could be my own mom, dad, partner, brother, or child suffer every day is challenging. The burning desire to alleviate the suffering of concussed individuals is what motivates me each day.
What is your biggest professional accomplishment? 
Surrounding myself with bright people. Placing revolution over revenue, people over profit, and collaboration over competition. These principles have enabled our team to make a meaningful contribution in the concussion space.
Additional Information
What books are on your bedside table right now? 
The Very Hungry Caterpillar (we have a 4-week old and a 15-month old), The Economist (one paragraph takes me a couple hours to process...), Golf Digest and Sports Illustrated, and of course my IPAD for ESPN and CNN.
How do you manage stress (i.e. sports, exercise, meditation)?
I definitely find time for hockey, golf, and the gym — I answer emails, participate in conference calls, and do my reading while on the bike at home each morning.
What is the most significant thing you've learned at Ivey? 
Every day I'm learning from my classmates at Ivey — the program has done a wonderful job of facilitating the learning among one another. I have been fortunate to make many lasting friendships.
What's been the most surprising aspect of the Executive MBA journey to date?
The camaraderie amongst the students and staff at Ivey in our program gives me the sense of a tight, small US NCAA College — something that wasn't apparent to me in larger undergraduate and graduate programs while at U of T and McMaster.  
EMBA '17
Ivey Business School
Neilank K. Jha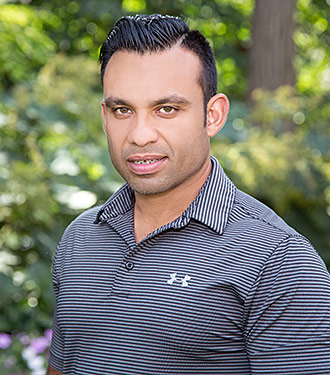 Chairman, KONKUSSION
Toronto, Ontario