Describe the role you play professionally:
Oversee retail banking within my region in Greater Vancouver.
What is the most challenging aspect of your job?
The financial sector is primed for a massive technological disruption. The whole industry is archaic with legacy systems and processes. Various FinTechs have already entered our market offering fast and clinical solutions for consumers. In addition, there are foreign entrants coming into the market. The need to change and adapt in leadership roles today and make faster and efficient decisions is even more critical and necessary. Our organization has a strategy and plan in place and I must align my management team and get buy-in to drive towards the organizational goal in a multigenerational and multicultural workforce.  I need to be very open and adaptable to the way I make decisions in this changing environment.
What is your biggest professional accomplishment?  
Upon deciding to enrol in my EMBA, our organization recognized me for my commitment to continuous learning and hence I was promoted to Associate Vice President, Retail Banking. In my new role, I have many challenges and my goal is to continue to grow and develop professionally as a leader.
Why did you decide to do an EMBA? 
We have a growing new generational workforce that is technically savvy. Added to all this is the new age of AI and robotics. As our environment is evolving very rapidly, it is crucial that I am able to keep up, learn, and evolve, too. With all of this, leadership, strategy and decision- making must also evolve. I am investing in myself today to "future proof" myself and to stay abreast of change.  All of this will help build my leadership skillset. I believe as change happens, we as leaders need to keep learning, otherwise organizations will outgrow the skillset we bring.
What is the most significant thing you've learned at Ivey?
Local is no longer regional – it is global. The exposure to the global landscape – how to navigate and understand consumer behaviours in other global markets – was a key learning for me.  In my decision-making, I need to look outside our market. I need to be aware of the impact of something that happens globally and how it might affect our business. My decision-making has improved as I analyzed a number of cases, in various industries with differing scenarios. This helped me change the way I translate strategy into leadership and has allowed me to see the bigger picture and think differently. While I am learning to make decisions, I also learn from my peers in other industries in terms of how they make their decisions and their thought process. This learning has helped me improve and quicken my decision-making process.
What's been the most surprising aspect of the Executive MBA journey to date?
It is amazing how much a person can accomplish and learn. When embarking with Ivey, you are overwhelmed by the number of deliverables and the strength and knowledge of your peers. I am pleased I made the decision to complete my EMBA at Ivey as the learning I have had from the case-based learning model is how I learn best. I learned that my learning isn't limited and I can stretch my boundaries. At Ivey, they say, "trust the process." It's true that there truly is a process.
What books are on your bedside table right now?
As I am in the midst of term 2, the two books at my bedside are Strategic Analysis and Actionand Financial Management Concepts and Applications.
How do you manage stress (i.e. sports, exercise, meditation etc.)?
Managing stress for me is having a balance and recreating my balance as the environment around me changes. I know when to shut down, spend time with my family and share laughs – and at times when I fail to recognize I need to shut down, I am surrounded by a loving wife and family that reminds me that it's time to shut down.
EMBA '20
Ivey Business School
Paul Bhangoo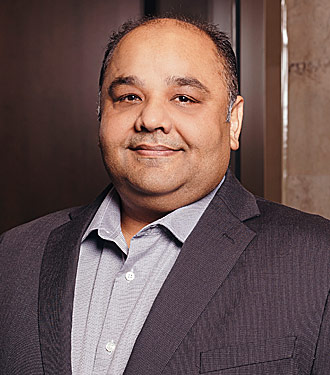 Associate Vice President, Retail Banking, G&F Financial Group
Vancouver, British Columbia, Canada