Describe the role you play professionally:
As the Director of Business Development at The State Group, I am responsible for the development and implementation of business strategies to increase our North American market share in core industries: automotive; metals and mining; energy, oil and gas; mission critical; and transportation. I am also responsible for developing and implementing the marketing strategy.
What is the most challenging aspect of your job?
The most challenging aspect of my job is working in the construction sector, which is male dominated. While there is much discussion on creating inclusive work environments, there are few women in construction and even fewer at the senior management level. I participate in construction events focused on women such as the Canadian Association of Women in Construction and Women in Renewable Energy, where I have met leaders who promote diversity.
What is your biggest professional accomplishment?
In 2012, I founded a company called Canadian Construction Export Group. I developed export strategies for Canadian building product manufacturers and set up distribution channels in the United States, Mexico, Central and South America, and the Caribbean. I had the opportunity to present at various U.S. Green Building Council conferences as a keynote speaker on Canadian energy-efficient building products.
Why did you decide to do an EMBA?
Having been in business development for several years and having operated my own company, I wanted to enhance my business acumen by obtaining an MBA. I specifically chose the executive program to learn from both the faculty and classmates with professional experience.
What is the most significant thing you've learned at Ivey?
The most significant thing I have learned at Ivey is to have a broader perspective in making business decisions. It's important to evaluate each decision's financial, operational, and strategic impact but also determine its alignment with the company values and culture.
What's been the most surprising aspect of the EMBA journey to date?
I was surprised by the comradery that developed among our classmates. We have an amazing group of professionals from diverse backgrounds and work experience and we all learn from each other. There is also an abundance of support and genuine care and respect for one other, which enhances the Ivey journey.
What books are on your bedside table right now?
Books by my bedside right now are the Finance and Strategy course books, at least until Term 2 ends. I do enjoy reading Brené Brown's Daring Greatlyand Dr. Carol Dweck's Mindset.
How do you manage stress (i.e. sports, exercise, meditation etc.)?
I really enjoy my weekends by the water where I experience moments of transcendence that renew my spirit. I am also strengthened by prayer and gratitude.
EMBA '20
Ivey Business School
Paulina Barnes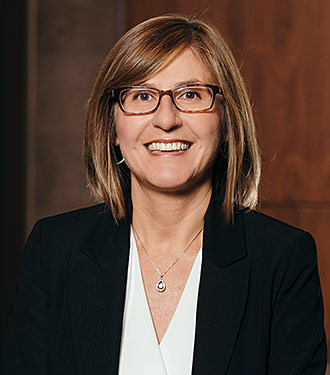 Director of Business Development, The State Group Inc.
Toronto, Ontario, Canada