Describe the role you play professionally.
I lead a team of eight talented individuals who help me with the everyday operations of 80 Shoppers Drug Mart stores with annual revenues of $900 Million. As the Vice President of Operations my main role is to lead our stores to operational excellence and outstanding customer experience while delivering positive business results. My role looks into every opportunity to drive business growth in our stores from operational processes and procedures efficiencies to execution of our standards of practice to innovation in the delivery of a centric customer service experience. In simpler words, we look after everything from the moment a product gets delivered to our store's back door by our suppliers to the moment that same product gets sold to our customer.
What is the most challenging aspect of your job?
Our stores are complex with a huge offering from pharmacy services, beauty in our cosmetics department, postal office, and digital centre to the convenience that we offer where many of our stores are opened 24 hours a day. My biggest challenge is to wake up every day not knowing how my day will play; there is never a single same day in retail operations. Every day you are faced with different challenges, every minute you are dealing with something different; one minute is a marketing related issue or a customer service issue, next minute is an IT issue or a logistic issue, etc. The job requires consistent multi-tasking and quick decision-making, just not to trouble-shoot things but to innovate and be ahead of the game compared to your competitors. Although I call all these examples challenging, these are the things that give me the adrenaline at work that I absolutely love — there is never a boring day at my job!
What is your biggest professional accomplishment?
It would be hard to narrow it to one biggest accomplishment as I believe it is much more a journey of facts, but I would say that my biggest professional accomplishment was to establish myself professionally in Canada.
I am an immigrant, today proudly Canadian, coming to this country without much support, without the language and with a professional diploma with no value at the time. After three years of intense studies and volunteer work I got my Bachelor in Pharmacy (B.Sc.Phm.) recognized in the country and was granted the right to practice Pharmacy in Canada. With my first professional accomplishment under my belt, a new world of dreams and possibilities opened for me. I felt empowered to pursue my next dream, to be an entrepreneur. Only two years later, I opened the doors of my own Pharmacy and become a franchisee owner with Shoppers Drug Mart. It was an experience like no other before, and it was my first taste of business and a full discovery of my leadership skills. The years passed, and I realized that I was much more than a Pharmacist to my patients in the community, I was a credible leader to my 38-member team of employees, to my fellow franchisee owners of my district, and to my Corporate Office, which gave me the opportunity to join them back in 2014 leading me to various roles such as District Manager, Director of Operations, and today, Vice President. The journey to these accomplishments was not easy but was rewarding as it provided me with experiences that shaped me into the leader I am today.
Why did you decide to do an EMBA?
Three major reasons: the first, I wanted to expand my business acumen. While I understand a great deal about the business I manage today, there are more complex conversations happening that I want to be a part of. The second, to build my self-confidence; having a university degree in Pharmacy Sciences, all the business understanding and knowledge I had came straight from my work experience. As I engaged in more responsibilities, I found that an unconscious voice of "I don't know what I don't know" consistently played in my mind interfering with my confidence to articulate my business insights and strategies. It was time to shut that voice down! Lastly, while I am grateful to a solid career path with my company, all I know is them. I wanted the opportunity to get exposed to other ways of doing things and to think by interacting and learning from a diverse cohort of amazing professional leaders in my class.
What is the most significant thing you've learned at Ivey?
Ivey helped me to realize that there is a whole new world out there. We get so focused in our everyday work and routine that we can unconsciously become a "narrow-minded" leader missing out in a world of opportunities.
Ivey professors, the methodology of teaching, along with our diverse class cohort support not only helped me develop my business knowledge but also my thinking of the world, in all aspects. There is something special about the process that makes you discover a better you. I didn't know I could be innovative, creative, so strategic, and even analytic! It is an incredible transformational experience that has made me a much more well-rounded leader. I feel confident, strong, and empowered — it is an amazing feeling.
What's been the most surprising aspect of the Executive MBA journey to date?
As I said above, it is a transformational process. I expected the program to make me more knowledgeable but didn't imagine the change it would make on me as a human being.
Another surprising aspect for me was the level of support and collaboration from the entire Ivey network. In Canada and internationally, everybody is there to support you. It doesn't matter what you need, a simple piece of advice, feedback, suggestion, coaching, mentorship, finding a new job, developing a business plan, there is always someone there to support you.
What books are on your bedside table right now?
I just finished Playing Big by Tara Mohr, which is a very empowering book of wisdom for women, and I started Designing Your Life by Bill Burnett and Dave Evans, which I am absolutely loving! It is about designing a life for yourself that is meaningful and fulfilling using the concepts of design thinking.
How do you manage stress (i.e. sports, exercise, meditation)?
I truly believe we are our own enemy when it comes to stress. Discovering the power of our internal voice is magical, as crazy as it sounds I talk to "myself," shutting down my inner critic voice and focusing on listening to my own best-self, the wisdom voice. I believe a positive and optimistic mindset is the best medicine to stress. To add, I love gardening, it makes my mind fly to a very peaceful world.
Industry: Wholesale/Retail
EMBA '20
Ivey Business School
Priscilla Luna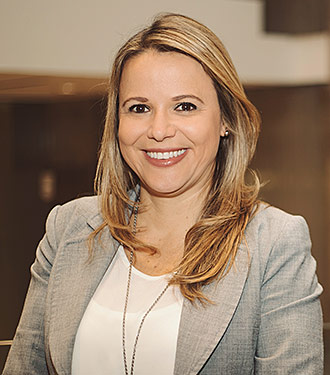 Vice President Operations, Shoppers Drug Mart
Toronto, Ontario, Canada