Describe the role you play professionally:
As an integrator and executor of RBC's marketing, and citizenship strategies, I am committed to driving increased brand affinity within the Greater Toronto Region amongst our key priority segments. My role focuses on building relationships with organizations and charities looking to drive positive change in our communities and enabling our branches and advisors to leverage the power of the bank to help clients thrive and communities prosper.
What is the most challenging aspect of your job?
As the financial industry continues to evolve and change, creating a strong strategy is just the start. Executing and delivering with excellence is critical to win in today's competitive landscape. In this role, managing numerous priorities and consistently simplifying and executing for greatest impact is a day to day challenge. The goal is to always focus on the end client and how to enable our people to deliver our brand promise every day and in every interaction.
What is your biggest professional accomplishment?
Early in my career I shied away from people management. I did not think I was a leader and I did not know what I had to offer others. When the challenge to lead my first team was put forward, I apprehensively accepted. When in role, I quickly learned, it was not about what I was able to offer others, but really, what could I learn from those around me.
The appointment was a one year posting and I was determined to make it count.  Each day I focused on two things:
How I could listen better?
How could I understand better?
When our fiscal year came to an end, my team had not only surpassed the forecasted stretch goals set but they had outpaced their peers across the country. In addition, a quarter of the team were acknowledged with year-end awards and to this day many continue to stay connected with each other as they continue to grow in their careers.
This team taught me that the secret to being a leader, starts with your heart. 
Why did you decide to do an EMBA?
As I moved through my career and explored roles in a variety of different departments, the learning curve in new positions was starting to get steeper. I wanted to understand and learn the skills and frameworks associated with successfully leading large teams, creating strong business strategies, and consistently driving to impact.
What is the most significant thing you've learned at Ivey?
It all starts with the people.
It has been clear through all our courses that your employees and clients are the most important part of a business. Hiring the right individuals, supporting them to be the best they can be and delivering on your brand promise are critical to an organization. Your product innovation, your technology updates, and your new business ventures should all be done to drive and support your employee and your end client.
What's been the most surprising aspect of the Executive MBA journey to date?
How much I have enjoyed it!!
The workload is not light. Which means that managing a full-time job, all your readings/assignments and making time for your personal life is not an easy task. However, I have enjoyed every moment of this journey. It has not only helped me identify my priorities, but it has also opened up an insatiable thirst to keep evolving, growing and learning. I will miss the people, my team and dare I say it… the cases, but I can say, I am already more confident and capable than the bright eyed curious Rebecca who started the program. And for that, I am grateful to IVEY and the EMBA program.
What books are on your bedside table right now?
Given the amount of reading between school and work, casual reading has not been a major priority recently. However, I am currently making my way through the audio version of: 'Never Split The Difference: Negotiating As If Your Life Depended On It' by Christopher Voss (I learned through our last negotiation class…. I have some room for improvement in this area and was leaving value on the table!).
I am an avid podcast listener and daily I make my way through a sampling of the following: FrontBurner, Today Explained, The Daily, The Economist, Business Wars and On Purpose with Jay Shetty.
How do you manage stress (i.e. sports, exercise, meditation etc)?
I have learned that I need three things in my life:
My family and friends
To sweat once a day
Personal time for reflection and meditation
When life gets overwhelming, I reprioritize my schedule and my commitments to make sure I fit these three things in. Not only do they reset my mind, but they fill my heart and soul, helping me continue to run this marathon we call life. 
EMBA '20
Ivey Business School
Rebecca Louzado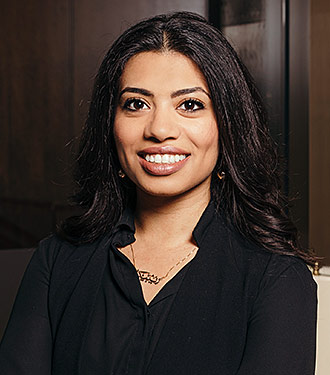 Director, Marketing and Citizenship, RBC Royal Bank
Toronto, Ontario, Canada