Describe the role you play professionally:  
As the Director of Regulatory Affairs, I provide leadership and direction to a team of Regulatory Affairs Professionals and ensure they have what they need to achieve the earliest possible new prescription drug product registrations in Canada with optimal labels based on the clinical trial results. My role includes providing senior management with critical risk assessments of the strategic alternatives for regulatory pathways for human investigational and new product registrations, as well as identifying global and local regulatory trends, taking into consideration their impact on business decisions. 
What is the most challenging aspect of your job? 
With the changing regulatory requirements, the pressures on the innovative pharma industry, and the attrition rate of new development products (one in 10 makes it to market), the challenge is to look for ways to keep my team engaged and motivated through the fluctuations in the pipeline of new products. 
What is your biggest professional accomplishment?  
My biggest professional accomplishment is being part of many prescription drug launches in Canada that address unmet medical needs in chronic disease and rare disease areas, changing people's lives for the better.   
Why did you decide to do an EMBA? 
I have been with my company in the medical department for 24 years, holding different positions. I am a member of a cross-functional Human Pharma Committee, where a number of business issues and challenges are often discussed. Coming from a science background, I wanted to understand the business fundamentals (including financial statements) to be able to better contribute to the business discussions, understand the issues in more depth, and ask the right questions to move the discussion towards a possible solution.  
What is the most significant thing you've learned at Ivey?  
Asking the right questions and understanding the real issues will definitely provide you with all you need to make a decision. The diversity of case studies we are reviewing and discussing, which come from a number of industries, opened up my thinking to look beyond my industry for developing strategies that provide benefit and competitive advantage to our company.   
What's been the most surprising aspect of the Executive MBA journey to date?  
It is like a full transformation. I am not sure how it is happening, but I look at things with a broader and different perspective now. I ask more questions (the right questions) that move discussions in a new direction. Learning to ask myself the question "So what?" has helped me with prioritizing and moving forward initiatives and solutions with the highest positive impact on our company. 
What books are on your bedside table right now?  
Mindset, by Carol S. Dweck, is a great book about how we put up our own barriers to success—how our beliefs about what we can or cannot do affect our life's journey and the choices we make.  
How do you manage stress (i.e. sports, exercise, meditation etc)? 
Exercise and a good night's sleep! I make sure no matter how busy I get, I always find time for my early morning workout, four to five times a week, with at least six to seven hours of sleep every night. I have to admit that "retail therapy" has also been part of my stress management process. 
EMBA '20
Ivey Business School
Samar Darwish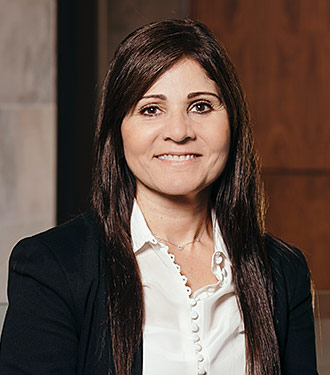 Director, Regulatory Affairs, Boehringer Ingelheim (Canada) Ltd.
Toronto, Ontario, Canada