Describe the role you play professionally.
I am Thales Canada, Defence & Security's Legal Counsel. I lead negotiations on major projects for the Department of National Defence. I also manage the legal aspects of Research & Development projects, from intellectual property protection to licensing and collaboration agreements. I regularly provide advice to senior management on business decisions.
What is the most challenging aspect of your job?
I work for a software engineering defence contractor operating in a very competitive and highly regulated environment. Therefore my biggest challenge is to expand my considerations beyond the purely legal and grasp the technical, financial, and programmatic challenges in order to actively participate in management discussions.
What is your biggest professional accomplishment?
Had I been asked that question before I started Ivey's Executive MBA Program, I would have said that my biggest professional accomplishment was being promoted to the company's legal counsel position, or having successfully brought industry and government to the negotiation table to modernize our federal procurement intellectual property terms and conditions.
I now realize that in addition, one of my biggest professional accomplishments is having developed and maintained connections throughout the organization allowing me to draw on others' expertise and to build consensus whenever I need to influence the outcome of a decision.
Additional Information
What books are on your bedside table right now?
On my bedside table are Nothing to Envy; Ordinary Lives in North Korea by Barbara Demick and The People of Forever Are Not Afraid by Shani Boianjiu. I enjoy discovering cultures and reading about the lives of people living around the world.
How do you manage stress (i.e. sports, exercise, meditation)?
I manage stress by constantly prioritizing the tasks at hand and accepting my limits; an achievable daily to-do list accomplishes just that.
Taking long walks with my dog, eating well, and spending quality time with family and friends are my best tools to overcome stress.
What is the most significant thing you've learned at Ivey?
The most significant thing I've learned at Ivey is that the path to achieving results is equally important to achieving them. Ivey's case-based learning methodology teaches me just that — the process is not focused on the answers to a question or how to prepare for an exam, but rather, how to look at business challenges from a holistic standpoint and consider all the factors at play before making a recommendation. Moreover, the wide range of professional and educational backgrounds as well as the years of professional experience the students enrolled bring to the discussion make learning at Ivey all the more enriching.
What's been the most surprising aspect of the Executive MBA journey to date?
The most surprising aspect of the Executive MBA journey, in my opinion, is how every step of the process, every reading, every class discussion and the sequence in which these activities occur is a carefully weighed and purposely made decision by the faculty. Topics that at first may have seemed unrelated are revealed to be intertwined, and the result is a gained ability to see the big picture. The recurrence and continuity of themes, the reciprocity of exchanges, the logical learning sequence, the commitment to pursue social engagement and responsibility, professors acting as facilitators and students as professors are some of many aspects that make studying at Ivey a unique life experience.
EMBA '17
Ivey Business School
Sarah El-Fashny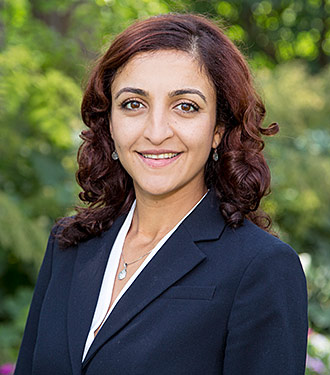 Legal Counsel, Thales Canada Inc.
Ottawa, Ontario