Describe the role you play professionally:
I'm responsible for the development of the products, digital experiences, applications, and strategic program delivery across Shaw wireline and wireless brands. We were formed 18 months ago with the vision to bring many aspects of technology closer to our customer and employee stakeholders. We are accountable for bringing together the teams that would traditionally only work on certain elements of the interaction tools or product development, and we work and collaborate across the organization on all aspects of design, development, and delivery. Our goal is to have more seamless and effortless experiences to make Shaw the best company with which to do business.
What is the most challenging aspect of your job?
It is probably very similar to others who are responsible for teams with a lot of breadth in an organization—allocating time and resources to the most important projects, priorities, or strategic areas of focus. It is a constant balancing act to make sure that we are thinking big for the future while delivering on today's priorities and objectives. We are committed to developing and realizing truly differentiated customer experiences and we always need to be challenging ourselves to keep that "outside-in" perspective when we take on new work. It is something that we are constantly trying to calibrate to make sure we are delivering the most value for the company and making customers happy as well.
What is your biggest professional accomplishment?
I am super proud of many aspects of my professional journey and especially grateful to some of the phenomenal leaders that I have worked with over the years. I have discovered that the most impactful accomplishment in my career has been developing people to become effective and successful leaders themselves. It has been incredible to support and help high-potential people along their journey and to witness the resulting impacts to the company and to their careers. I learn so much from these individuals and believe that there is always more to learn within my own leadership journey. Even simply sharing an experience or outcome with someone can have an impact. Coaching and mentoring talent to become the next vice president or senior leader in a company is exciting and gratifying in a way that no single project or launch can compare with.
Why did you decide to do an EMBA?
My decision to do an EMBA was based on an inborn philosophy to always keep learning and developing as a person. Professionally, I was excited to be challenged in a new way and to experience being in an academic learning environment with a group of driven and ambitious individuals. I was also eager to increase my toolkit as an executive so that I could contribute even further to my company, and to expand my future career opportunities.
What is the most significant thing you've learned at Ivey?
I have been fortunate to learn an incredible amount as I approach the halfway mark in my EMBA journey. While I expected to be out of my comfort zone in some subjects, I was surprised at the amount that I could absorb in a single course, such as Marketing Managementor Data Analytics. I actually feel confident enough to be able to contribute in these areas of my company and utilize the learnings in real time. It is so empowering to be able to expand beyond my work experience and trial-and-error knowledge to absorb new skills and capabilities, undoubtedly opening new doors of opportunity for future roles.
What's been the most surprising aspect of the Executive MBA journey to date?
There is no doubt that it is the people that I am getting to work with through the EMBA journey. It is difficult to articulate how much of an impact the cohort has made on my experience at Ivey. There is so much diversity of thought, ideas, and backgrounds to draw from as we work alongside each other, and a great amount of genuine kindness and friendship along the way. I am building a whole new network and it has a tremendous amount of value for my current situation and certainly for my future steps in my career.
What books are on your bedside table right now?
Like many EMBA students, I have my course materials nearby to catch up on reading whenever possible. I'm also reading the new Margaret Atwood novel, The Testaments, with the hope that I can actually make it to my next book club meeting with friends and join in the conversation. I like being able to change the pace and read for fun, like my pre-EMBA self used to do.
How do you manage stress (i.e. sports, exercise, meditation etc)?
We live very close to the Rocky Mountains and spend most of our weekends at our cabin in Canmore, enjoying the outdoors, scenery, and fresh air. My two young daughters provide me with a front-row seat to the joys of being curious, fearless, and fun, and I try to take a cue from them when I'm feeling overwhelmed with the demands of so many commitments. We love to get on our bikes, or head out for a hike, or go skiing in the winter as much as possible. If I don't get enough downtime or sleep on a regular basis, my mental state is just not at its best. I'm hopeful that as more workplaces recognize that their employees need time to recharge and refresh in order to be productive, there is more encouragement from companies to do so. It is something that, as a leader, I try to model as much as possible.
Industry: Tele/Communications
EMBA '20
Ivey Business School
Sarah Miller Wright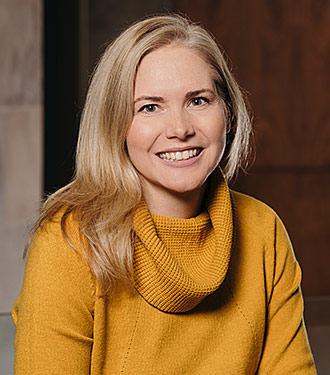 Senior Vice President, Digital, Product Development, and Strategic Program Delivery, Shaw Communications
Calgary, Alberta, Canada