Describe the role you play professionally.
In my current role, I am ultimately responsible for the design and development of the seasonal product line at Canada Goose. From initial concept, through to production, my team is tasked with the evolution of the product, while simultaneously protecting the authenticity and the history of the brand.
What is the most challenging aspect of your job?
Canada Goose is growing very fast and there are many of opportunities for future success. It can be challenging to prioritize "nice to do's" against "must do's". It is important to evaluate the most impactful projects for company in the short-term whilst always considering the long-term objectives.
What is your biggest professional accomplishment?
Over the last seven years my team has contributed to the growth of the product portfolio for Canada Goose from 35 styles to over 300 for the 2016 Fall/ Winter season. This is an incredible accomplishment as we continue to expand the mindset of our consumers and transfer from down filled jackets and into lighter non-insulated options. In addition, managing the evolution of the department and the successful growth of the team has been very rewarding.
Additional Information
What's on your bedside table right now?
I am currently reading Creative Confidence by Tom Kelley and David Kelley, the founders of IDEO. An important aspect of my role is to encourage creative thinking and to support a culture of innovation. Through IDEO project examples, this book inspires me to get the most out of my team. It also forces me to redefine my understanding of creativity and expand beyond traditional ideas.
How do you manage stress (i.e. sports, exercise, meditation)?
My family is extremely important to me and continues to be a source of enjoyment and encouragement. My wife and I, try hard to remain active and outdoors our children as much as we can. The family really enjoys camping together during the summer and skiing in the winter.
On my own, I spend a lot of time on my bike and most mornings can be found riding with my local club. I find that a long ride is the best way to reset and take your mind off everything else. There a sense of peace when you pushing yourself and testing your own limits.
What is the most significant thing you've learned at Ivey?
Time management and being present are two of my most important takeaways from my Ivey experience. While we all work from our calendars and bounce from one meeting to another, Ivey forces you to use every minute effectively. Anyone can attend class or a meeting, but you must be engaged to get the most out of your time. By applying this to my positon, I am able to give more forced direction to my team and be more valuable to the overall company.
What's been the most surprising aspect of the Executive MBA journey to date?
I'm surprised how much I've enjoyed the case approach. Everyone has a different take on the situation and hearing your group or the classes' perspective is a lot of fun. I'm also amazed how close you become to members of class and the overall Ivey network. We are all balancing a workload, making personal and professional scarifies and no one know these stresses like your Ivey classmates. I truly believe I've made lifelong connections here.
EMBA '17
Ivey Business School
Spencer Orr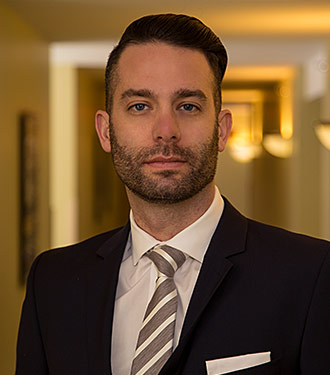 Vice President of Design and Merchandising, Canada Goose
Toronto, Ontario