Describe the role you play professionally.
In my role I manage the Aftermarket Sales for brake components and work closely with customers in Canada, the United States, Mexico, and Brazil. My primary responsibility is to develop and evaluate price strategies, collaborate on global sourcing strategies, maintain a deep understanding of the market, and manage new product introductions. I play an active role in the global aftermarket brake industry and serve as a Board Member for our industry association.
What is the most challenging aspect of your job?
The most challenging aspect of my job is actively responding to rapid and complex changes in the global industry and developing strategies to turn them into opportunities for my organization. Most recently this has involved mapping out and executing a global supply chain in light of the recent North American trade negotiations and tariffs.
What is your biggest professional accomplishment?
My biggest professional accomplishment to date is that I was the youngest person elected as a Board Member to our industry association.  
Why did you decide to do an EMBA?
I decided to do an EMBA because I believed it would give me the building blocks and tools to be successful as I progress in my career. My learning goal was to build greater knowledge in finance, with a focus on business strategy and leadership skills. As I progress through the Ivey curriculum I can confidently say that it was the right choice for me and I am learning a lot.
What is the most significant thing you've learned at Ivey?
The most significant thing I have learned at Ivey is how to evaluate, understand, and synthesize complex business decisions. I take a lot of value from the business cases that we study because they are real world examples that draw parallels to issues that organizations experience. The class discussion and different perspectives have been invaluable and opened my eyes to new approaches — I will no longer only consider the numbers!
What's been the most surprising aspect of the Executive MBA journey to date?
I chose the Ivey EMBA Program because of the focus on the Case Study Method, and I was surprised by how interconnected the cases are. A Finance case could be used as a Marketing or Analytics case — a decision in one area has an impact on the others. I am also surprised at how much material we have covered in a short time, the depth of learning, and how I have been able to manage my time.
What books are on your bedside table right now?
Other than Ivey cases? During this journey I have heard of several great books from my professors and classmates and I have started to stack them up on the bedside table. They include Moneyball: The Art of Winning An Unfair Game by Michael Lewis and Radical Candor by Kim Scott. 
How do you manage stress (i.e. sports, exercise, meditation)?
I find that the best stress relief is spending time with my wife and kids. I have a 6-year-old daughter and a 3-year-old son and when playing with them the stress disappears. I also enjoy home renovation projects and when I finish the program I plan to renovate a bathroom in my house. 
EMBA '20
Ivey Business School
Stephen Bird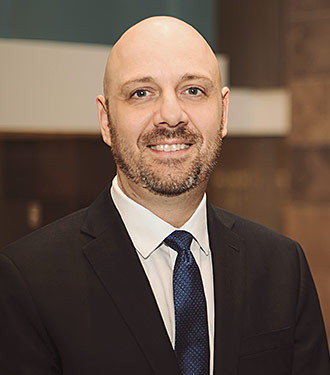 Director of Sales and Marketing, Americas, UTIL Canada Limited
Toronto, Ontario, Canada