Tridel – Innovation Manager
Tower Labs @MaRS – Director of Projects
DMZ – Advisor
Describe the role you play professionally.
At Tridel, I manage the Innovation Program which is a corporate framework for integrating innovative technologies and processes into Tridel's business model. This includes managing business risk in design, operations and technology innovation. As part of this role, I also manage R&D activities, sustainability aspect of the building design and construction and provide support to the Corporate Social Responsibility CSR program.

At Tower Labs, a non-profit co-founded by Tridel and MaRS, I manage the commercialization process of innovative building technologies into the high-rise real estate market.

At DMZ, I review innovative startup companies who focus on the real-estate market and work with them to develop their business model and help them formulate strategic partnerships in the industry with the goal of growing them into mature businesses.
What is the most challenging aspect of your job?
At my job I sell innovative, new and never tried before ideas that require people in the organization get out of their comfort zone, so their first instinct is to push back and resist the change. The most challenging aspect for me is to always balance the benefits ad costs of change and manage relationships with decision makers and stakeholders in the organization.
What is your biggest professional accomplishment?
Transitioning my career to work for builders and decision makers in the green real-estate industry is my biggest accomplishment. This allowed me to be part of the decision making process and opened my eyes to the need for business training to compliment my engineering experience and skills.
What's on your bedside table right now?
Ivey cases for the most part since I started the EMBA program, but there is always room for my iPAD with my collection of non-fiction ebooks, TED talk videos and some Lumosity quality time.
How do you manage stress (i.e. sports, exercise, meditation)?
Stress?! What's that!? (kidding!!). I always try to make time for exercise. I find the best way to stay motivated is to always change up my workout routine.

What is the most significant thing you've learned at Ivey?
At Ivey one learns many things, but the most significant were how much I was able to push my limits, work efficiently under pressure, and how to lead and follow in a team of peers.
What's been the most surprising aspect of the Executive MBA journey to date?
I have to say it is the Ivey bond that brings the EMBA class together. It is amazing how 50 odd strangers, who, under normal circumstances, are unlikely to get along, become such close friends, a family of sorts and a valuable network during and after the EMBA program.
EMBA '16
Ivey Business School
Subhi Alsayed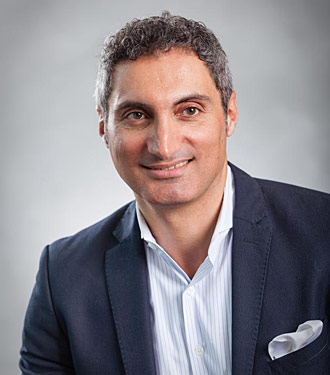 Tulkarem, West Bank
Toronto, Ontario