Describe the role you play professionally.
I am currently the Director of Market Access at PIVINA Consulting Inc. and have spent over thirteen years in the Canadian Pharmaceutical/Biotechnology industry. I work with pharmaceutical manufacturers (clients) assisting in securing public and private drug plan funding for innovative therapies that are launched into the Canadian market. My primary responsibilities include bringing new and existing clients strategic market access planning, navigating through the drug reimbursement pathway, as well as ensuring the product is listed on drug plans to ensure patients have access to innovative therapies in Canada. I have had the opportunity to work with many pharmaceutical manufacturers, where drug products have been reviewed by Health Technology Assessment agencies such as the Common Drug Review (CDR), the pan-Canadian Oncology Drug Review (pCODR), l'Institut national d'excellence en santé et en services sociaux (INESSS - Quebec), and provincial/private/hospital drug plans. Additionally, I have been involved in numerous product listing agreements with public payers, including the pan-Canadian Pharmaceutical Alliance (pCPA), which coordinates negotiated agreements between pharmaceutical manufacturers and public drug plans.
What is the most challenging aspect of your job?
People management. Within my current role I manage teams internally at PIVINA and various external stakeholders (i.e., clients and payers). Everyone I deal with on a daily basis requires different management styles, therefore the most challenging aspect of my job is pivoting my management style to achieve goals for each respective person on a daily basis.
What is your biggest professional accomplishment?
I have been fortunate to have been a part of teams for many drug launches in the treatment of chronic diseases and rare conditions, ultimately ensuring access to patients and families living with these conditions. Typically, the average time for public funding in Canada is approximately ten months. One of my biggest professional accomplishments was that I was a part of the launch in a treatment that cured a chronic condition and received public funding across Canada in two days post-Heath Technology Assessment review.
Additional Information
What books are on your bedside table right now?
Ivey cases or text books currently. Prior to Ivey I was reading Lean In by Sheryl Sandberg — a great read for women enhancing their professional careers.
How do you manage stress (i.e. sports, exercise, meditation)?
Exercise! I love the gym — it is the place where I can relax and focus on me.
What is the most significant thing you've learned at Ivey?
When approximately one third or greater of your grade is based on contributing in class, it allows everyone in the class to learn about different industries. My peers have provided valuable contributions in class that have opened my eyes to industries such as nuclear power, airline, banking, information systems, construction, media, and many others. The diversity of my peers has allowed me to expand my expertise to strategies and tactics that are fundamentally not thought of in the healthcare industry. Ultimately, the diverse expertise of my peers is pushing me to think differently to take my career to the next level.
What's been the most surprising aspect of the Executive MBA journey to date?
I knew when I chose Ivey to pursue my MBA that it was based on the case-method approach; however, the execution of the case-method learning by the amazing faculty is an experience unto itself. Every time I walk into a session, I walk out with that "aha moment" to apply that learning at PIVINA. One example of the rapid learning through the case method was when, after two months in the program, I was presenting at a conference and at the end of the session my colleague, the Managing Director at PIVINA, looked at me and said "your language is different." So the most surprising aspect is that the case-method approach at Ivey is a remarkable learning experience that is brilliantly executed by high calibre faculty — to the point that you are applying it immediately to your business.
EMBA '17
Ivey Business School
Tharani Napper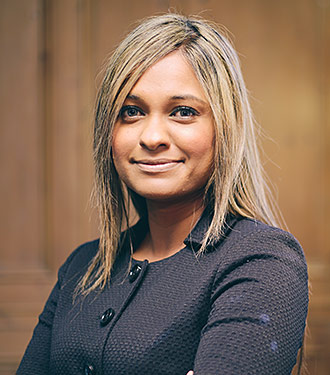 Director, Market Access, PIVINA Consulting Inc.
St. Catharines, Ontario