Describe the role you play professionally.
I coach and lead a team in Canada and the US that is the front-line between our customers and operations. I also hold a leadership position that necessitates involvement in setting vision, strategy, and shaping how the team will execute on meeting their individual and company deliverables.
What is the most challenging aspect of your job?
Working for a publicly traded company there are processes and a structure that has been in place for quite some time, so I work to demonstrate the value of thinking creatively and taking an alternative approach to a problem or challenge.
What is your biggest professional accomplishment?
Attracting former employees back to our organization. It is often the case where those that are effective in customer facing roles are lured away from an organization with the prospect of making more money.  Creating an environment that values contributors' opinions and recognizes them for their achievements has played a role in the return of some key employees that had made the decision to leave.
Why did you decide to do an EMBA?
My education is in the field of science. Prior to starting my EMBA my business knowledge had come solely from a scientific organization. While this was valuable, I had an interest in learning business in the traditional sense.
What books are on your bedside table right now?
Passion Capital by Paul Alofs.
How do you manage stress (i.e. sports, exercise, meditation)?
Running and craft beer. I enjoy them equally and many times in succession.
What is the most significant thing you've learned at Ivey?
How to test your limits. This program will challenge you mentally, physically, and emotionally. It will add stress in places where you previously had none. An ability to cope with all of this and with a smile on your face is my goal for this course.
What's been the most surprising aspect of the Executive MBA journey to date?
Delivering on the overused term 'Trust the Process.' It is amazing how far you can push yourself once you commit.
Waylon Sharp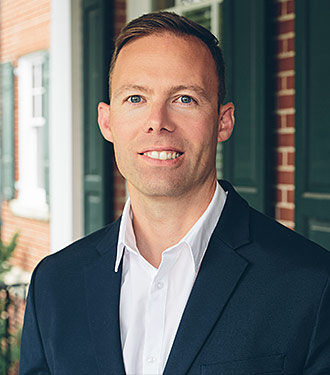 Director of Sales - North America, Maxxam Analytics Inc.
Woodbridge, Ontario