Describe the role you play professionally:
As the Director of Finance at a mid-sized family-owned company, I am involved in all aspects of the business, including finance, accounting, strategy, budgeting, HR, risk, and IT. In my non-profit role, I get to touch almost everything, but the most important part of my job is around risk, governance, and ensuring that we are delivering high-quality work for our donors and funders.
What is the most challenging aspect of your job?
As with most professionals, I think the greatest challenge is deciding what deserves time and effort. Every day you go into work with a plan and then things come up. In those moments, the decision has to be made: What's the priority? Should I delegate? Is this a coaching moment?  When adhoc requests and urgent matters come up, the next challenge is trying to figure out how to avoid that in the future: Do we need to improve a process? Was it a problem with communication? 
What is your biggest professional accomplishment?
That's a tough question. I am extremely proud of the work done at Attainable Homes in getting almost 1,000 families into affordable home ownership – and the small role I played in making that happen. Personally, I'm probably most proud of presenting to Calgary City Council and the City of Calgary Audit Committee as the Director of Finance at Attainable Homes Calgary Corporation and gaining the confidence of those groups. It may sound like a strange accomplishment, but it is what scared me the most. Being able to do it and do it well was an enormous accomplishment for me!
Why did you decide to do an EMBA?
I lost my husband in April 2017. In the months after he passed away, I started to think about how I could position myself in the best way possible to take care of my daughter. I have a CPA designation and am thrilled with the doors that it has opened for me, but I felt that I was reaching the ceiling of what I could do in non-profit finance. So I started researching EMBA and MBA programs. The EMBA appealed to me because of the variety of people that were in the program, the learning methodology, and the schedule. 
What is the most significant thing you've learned at Ivey?
This has to be the most difficult question to answer on this survey. I have learned how much I have yet to learn – how big the world really is, how many options there are, and about so many innovative and creative things that are happening around us.  
I bring learnings from each case and class back with me to the office and the boards that I sit on, and I can't wait to share them with my peers.
But, if I have to pick one thing, it's that I have learned that the most critical mistakes people make can be when they don't admit that they don't know. So many of the cases we have read come back to people moving forward with projects or strategies that they didn't understand or were doubting, but they kept going because they didn't feel they had a choice, or there wasn't a way for them to communicate their concerns. As a manager, I now make a concerted effort to ensure everyone knows that it's OK to come tell me if they think something is broken. I want to know about every mistake and every risk taken that didn't go well. That's where the magic happens. In being open. In being vulnerable. In moving forward. 
What's been the most surprising aspect of the Executive MBA journey to date?
I have made such wonderful, close friends through this process. You read people's profiles before you start and everyone seems so accomplished – it can be intimidating. But everyone is generous with their thoughts, ideas, and time. It's this incredible period of growth for everyone in the room, and you build real bonds. It's unlike any other learning experience I've had, and I would recommend it to anyone. I do recommend it to everyone!
There is also so much laughter and joy in this process – that was a real surprise as well. I am already feeling nostalgic about the program and I'm not even done.
What books are on your bedside table right now?
Hunger by Roxanne Gay and Being Caribou by Karsten Heuer and Leanne Allison. And a HUGE stack of The Economist magazines.
How do you manage stress (i.e. sports, exercise, meditation etc.)?
Long walks always help – just getting outside with my daughter and boyfriend helps me relax and reminds me of what's important. 
I also find phoning one of my good pals for a check in, a chat, and a laugh reduces my stress level instantly.
Industry: Charities/Not-for-Profit
EMBA '20
Ivey Business School
Wendy Hennel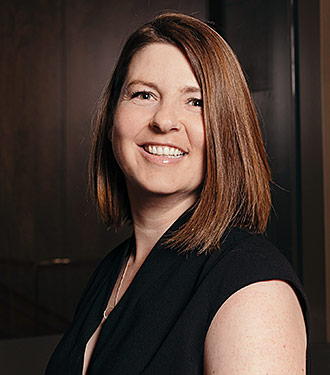 Sarina Homes, Director of Finance and Acting Executive Director, All One Sky Foundation
Calgary, Alberta, Canada