Describe the role you play professionally:
I am the Chief of Staff to the Deputy Minister. I advise the Deputy on a breadth of issues relating to the Ministry's oversight of Ontario's $63-billion health system. I work with the Ministry executive team to facilitate the delivery of government priorities. 
What is the most challenging aspect of your job?
The most challenging part of my job is not getting lost in daily issues and losing sight of the ultimate goals and the broader system perspective. The HBR has a great paper on the Work of Leadership. It notes that a key function of leadership is managing adaptive change to ensure the organization is nimble, innovative, and solutions-focused. It urges leadership to regularly "get to the balcony" to ensure they have the full-field view and can spot patterns and opportunities. When you're running after many unexpected issues each day, it's sometimes easy to forget to get to the balcony. You need to remind yourself constantly.
What is your biggest professional accomplishment?
Working with the Ministry of Health, I've had the privilege of leading and supporting many transformational initiatives that change the way health care is funded, regulated, and delivered to improve care and sustainability. Incrementally, these initiatives are building a more patient-centred system. Most recently, I'm proud of the launch of Ontario Health Teams that will organize health services within a community to have better-integrated care around patients.
Why did you decide to do an EMBA?
I wanted to strengthen my business mindset and my skills in change management and leadership. Health care is facing many challenges, and I knew I needed to challenge myself to be able to lead positive change in the system. 
What is the most significant thing you've learned at Ivey?
There are so many learnings, it's difficult to choose one. It's comforting to learn that, despite how different our industries might be, we generally struggle with similar issues. The top issue facing all organizations is the need to constantly adapt to the changing external environment.  There is no static competitive advantage – the only sustainable competitive advantage is your ability to adapt and create a learning organization that continually innovates and improves. 
What's been the most surprising aspect of the Executive MBA journey to date?
Maybe this shouldn't surprise me, but it's how much I've learned about myself. I'm still integrating all my learnings. What I notice is that I can maintain a much broader perspective and generate deeper insights. 
What books are on your bedside table right now?
At the moment, the course books for EMBA and my friend's upcoming book.
How do you manage stress (i.e. sports, exercise, meditation, etc.)?
I use movement and meditation to manage my daily stress. My morning run gets my energy up and helps me to stay resilient. Yoga and meditation help me slow down and check-in internally. 
EMBA '20
Ivey Business School
Wiesia Kubicka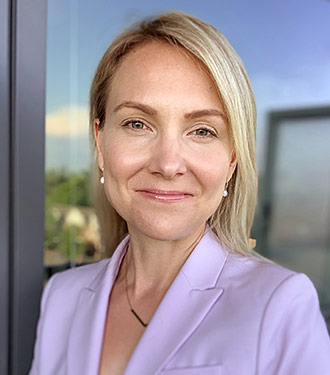 Director of Policy & Delivery, Ontario Ministry of Health and Long-Term Care
Toronto, Ontario, Canada