Describe the role you play professionally:
At GoldenChefs
Managing Customer needs & Consultation
Creating unique edible Designs / Food & Beverage Concepts as per Customer / Company Needs
Managing Employees & Production Volumes
Managing Admin & Accounting
At Humber
Delivering Theory & Practical Lessons (Various subjects) to future Cooks / Chefs and Executive Chefs
What is the most challenging aspect of your job?
Managing multiple Orders / events happening at various locations (Ontario Wide ) within  a limited timeframe, particularly on days when more than 20 plus Orders have to be expedited to the highest possible standards.
What is your biggest professional accomplishment?
Winning multiple Medals including a Gold/Silver/Bronze Medal at the World Food Olympics 2004 – Erfurt – Germany, shadowing Culinary Team Canada
Winning Canadian Culinary Federations " Chef of the Year " for the year 2010 after competing live at multiple Regional & Provincial Levels
Being Qualified as a " Certified Executive Chef " and receiving the CCC designation, which was the highest qualification for Chefs until very recent. Now the highest Chefs Qualification in Canada is "Certified Master Chef" – CMC – for which I was involved in creating all the theory component contents for the Garde-Manger (Cold Cuisine ) section
Winning the Most Outstanding Student Award with Double Honors and winning 14 special Awards including Hilton Trophy, Unilever Master Chefs Trophy and many other at the SLITHM's ( Sri Lanka Institute of Tourism and Hotel management ) Graduation, more than 30 years ago.
Being Crowned as the Chef of the Year in the United Arab Emirates ( Dubai, Abu Dhabi etc )  and leading the UAE National Chefs Team for 4 Years from 1992 - 1996
Why did you decide to do an EMBA?
It was a dream since I arrived in Canada in 1996. Life happened and year after year, the dream got pushed back. Finally, a miracle happened, and I am part of this amazing program, along with very talented, educated, intelligent, smart and sporty class mates.
What is the most significant thing you've learned at Ivey?
It is a long list but, in a nutshell, I would say "Collaboration & Sustainability"
What's been the most surprising aspect of the Executive MBA journey to date?
Everything & everyday is a Surprise as I am learning so many new topics, and subjects at IVEY.
If I have to strain down to one Subject, I would say the " Competing with Analytics" subject  was the biggest surprise.
What books are on your bedside table right now?
Financial Management – Concepts and Applications – by Ivey Professor Stephen Forester
Strategic Analysis and Action – by Ivey Professors Mary M Crossan, Michael J Rouse, W Glenn Rowe, Cara C Maurer
REWORK – ( NYT BestSeller by Jason Fried & David Heinemeier Hansson
How do you manage stress (i.e. sports, exercise, meditation etc)?
I Honestly do not believe in the word Stress as I enjoy everything I do.
As hobbies I have multiple tropical fresh water aquariums at home, manage my own garden with flowers and organic vegetable, love to ride my bike to stay fit and well, and recently we adopted a new Puppy "Niko" ( an Australian Shepard / Border Coulis ).
Industry: Hospitality / Food Services
Gamini Hemalal, CCC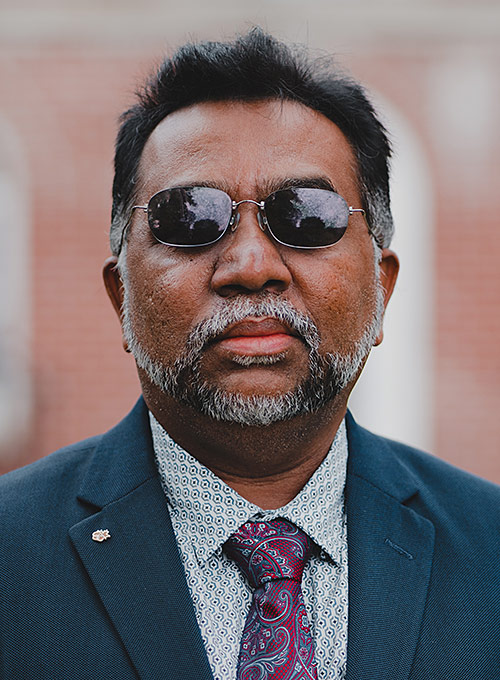 President / Founder / CEO – GoldenChefs.ca / IceGuys.ca / CakeGuys.ca, Chef / Professor / Instructor – School of Business at Humber.ca
Vaughan / Etobicoke, Canada