Describe the role you play professionally:
I am a palliative medicine physician who specializes in the care of patients with irreversible disease. Sometimes these patients live for only a short time and sometimes they live for many years. Most of our patients have malignancy, and some have heart, lung, kidney, and liver disease. Our goal is to improve the quality of life of our patients and their families.
I am the Head of the Division of Palliative Care at Providence Health Care, which is a UBC teaching hospital. My role is to work on the vision for our health-care team, hire physicians, and ensure our clinical care, teaching, and research are top notch. Our team does research on clinical palliative care and also on the experience of health-care teams in palliative care. We are also planning to move into a new ultra- modern hospital in the next six years, which is exciting. At this time (March 2020), however, due to the COVID-19 pandemic, I have been spending the majority of my time helping my team, studying the disease, and preparing our hospital to care for the many patients with COVID-19.
What is the most challenging aspect of your job?
The most challenging aspect of my clinical job is taking care of patients who are suffering, and who have existential distress due to their diseases. Some patients are, of course, young with families and that is often stressful and difficult for the patient and their family. The most challenging aspect of my administrative job is working in health care where we are trying to make changes to improve patient care. Remaining responsive, honest, optimistic, and energetic, even during tougher days, has helped me as a leader and as a clinician.
What is your biggest professional accomplishment?
My biggest professional accomplishment was completing my residency programs and The Royal College of Physicians and Surgeons of Canada examination for Internal Medicine in 2009. Being hired as a staff physician, and later, as a Division Head at St. Paul's Hospital, which is an outstanding hospital in B.C., was also an important accomplishment for me. My closest colleagues, teachers, mentors, and advisors work there, and I fully support the mission of our hospital and its leadership.
Why did you decide to do an EMBA?
I decided to complete an EMBA at Ivey as I really love learning new concepts, and I also like working with numbers (and Ivey is quite a quantitative program). I feel that continual life-long learning will help me better contribute to society, and to my family. I'm also really interested in value investing, and Ivey is known to be the Canadian leader in this field of study. Once I complete the EMBA, I'll be better able to lead my team at Providence Health Care, and advance to more senior roles in our organization. I'll also be better prepared to start my own business focusing on advising health-care professionals.
What is the most significant thing you've learned at Ivey?
In medicine, team work is very important to optimize patient outcomes, but in medical school and residency, how to excel in a team environment isn't necessarily taught and most of the learning is through observation. At Ivey, we've really learned how to work well in teams, to rely on and trust each other to complete our projects, and for helpful feedback.
What's been the most surprising aspect of the Executive MBA journey to date?
I'm a bit surprised about how applicable my new knowledge is to clinical medicine and how to work well in a clinical environment. I thought, since a lot of the Ivey study cases are based on corporations, there would be little overlap, but I've come to realize that a lot of the business problems we studied are really leadership problems, which is what happens in clinical medicine, too.
What books are on your bedside table right now?
Several books and journals including, The Ride of a Lifetime: Lessons Learned from 15 Years as CEO of the Walt Disney Company by Robert Iger; Indistractable: How to Control Your Attention and Choose Your Life by Nir Eyal; National Geographic Magazine (current issue on pain); and several New England Journal of Medicine and JAMA articles on COVID-19.
How do you manage stress (i.e. sports, exercise, meditation, etc.)?
To manage stress, I try to be as rational as possible, and not worry about things I can't control. I've learned from my clinical work that life can be short, so it's best to enjoy life to the fullest, and make the most out of life by trying to help others (I really think that is the key to happiness in life). I find that reading a lot each day, and talking with knowledgeable people about topics I'm really interested in is also very relaxing and enjoyable for me. I enjoy going for long walks or cycling, which I do every day. I also love spending time with my wife and three kids, and we enjoy wilderness hiking and skiing in B.C.
Industry: Health care - Physician
Gil Kimel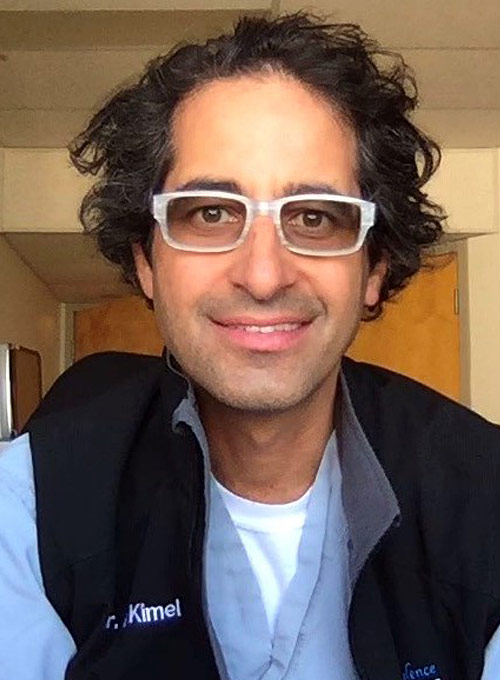 Head of Division of Palliative Care – Providence Health Care, St. Paul's Hospital, Vancouver, B.C., Clinical Associate Professor of Medicine - University of British Columbia, Specialist in Internal Medicine and Palliative Medicine
Vancouver, Canada